Attack on Mother and Unborn Baby Care mirrors messages left at dozens of pregnancy centers since Roe's reversal
SOUTHFIELD — The back door of Mother and Unborn Baby Care pregnancy center in Southfield was vandalized Friday, Sept. 16, with threatening messages written in red spray paint and windows destroyed.
The door and parking lot leading up to the clinic was tagged in red spray paint reading, "If abortions aren't safe, neither are you. Jane."
Jane is in reference to "Jane's Revenge," a militant, extremist group that claimed responsibility for an attack against a pregnancy resource center in Madison, Wis., after the Dobbs v. Jackson Women's Health Center U.S. Supreme Court decision that overturned Roe v. Wade in June.
The threat spray-painted on the Southfield center's door mirrors an attack against another local pregnancy center in June, when several windows and doors of the Dearborn Heights-based Lennon Pregnancy Center were smashed and graffiti left.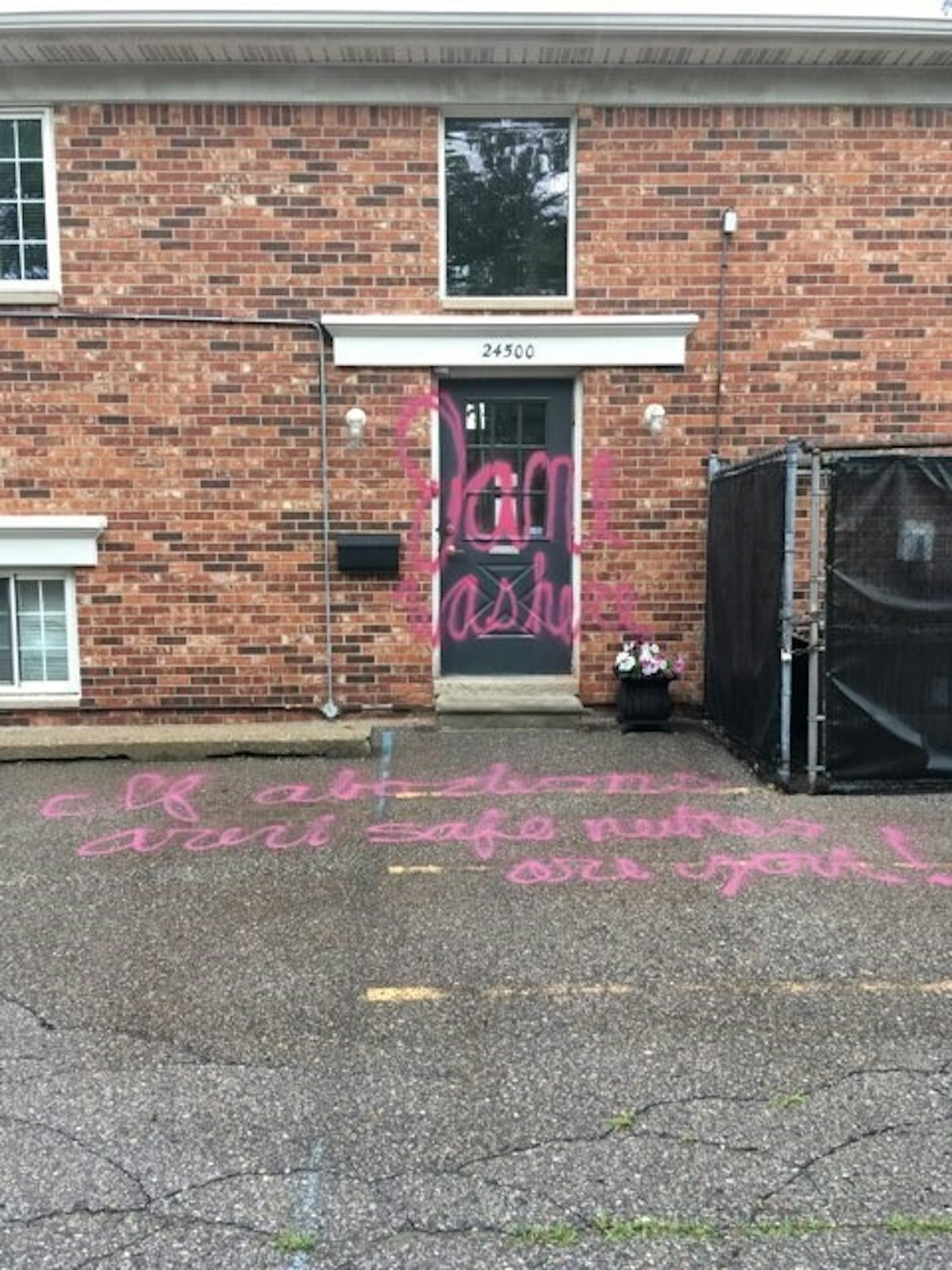 Pregnancy resource centers across the country have experienced a rise in vandalism and threats of violence, along with derision from government officials who call the locations "fake clinics."

Meanwhile, Catholic groups have called on leaders to denounce such attacks, rallying in support of the pregnancy aid centers, which provide free diapers, formula, clothing, parenting classes and financial aid to new or struggling mothers.
In July, local Catholics donated $20,000 to the Lennon Pregnancy Center in response to the attack.
Jack McGrath, chairman of Mother and Unborn Baby Care's board of directors, told Detroit Catholic the Sept. 16 attack is the second time the Southfield center has been targeted, with another incident occurring June 24 after Roe was overturned. All 14 windows on the ground floor were smashed and a graffiti message: "Jane was here," and "If abortions aren't safe, neither are you!"
"We are saddened by this act of malice and pray that these persons repent," McGrath said. "Mother and Unborn Baby Care has been saving mothers and their babies for over 35 years. We have shown women nothing but love and compassion. Mothers return with the child they were considering aborting to tell us how grateful they are that we were there for them when they were troubled and desperate.
"We trust in God's will and His power," McGrath added. "They provide the way of peace amidst adversity."
Copy Permalink