Detroit archbishop, Arlington bishop take part in joint virtual discussion about civility, discernment in modern communications
DETROIT — Two bishops who recently addressed the topic of digital and social communications in the life of the Church joined a panel of media experts to talk about the changing role of 21st century media and how it shapes the Catholic response to the modern age.
Archbishop Allen H. Vigneron of Detroit and Bishop Michael F. Burbidge of Arlington, Va., each of whom recently authored pastoral letters on the topic, joined moderator Billy Atwell, chief communications officer of the Diocese of Arlington, for a wide-ranging discussion about how Catholics can use, discern and impact the modern media landscape.
The two-part virtual conversation, called "Digital Transformation and the Catholic Church: Bringing Truth and Hope in the Modern Age," is a joint effort of the Archdiocese of Detroit, Diocese of Arlington and Ave Maria Radio. The bishops' discussion was followed by a panel of Catholic media experts.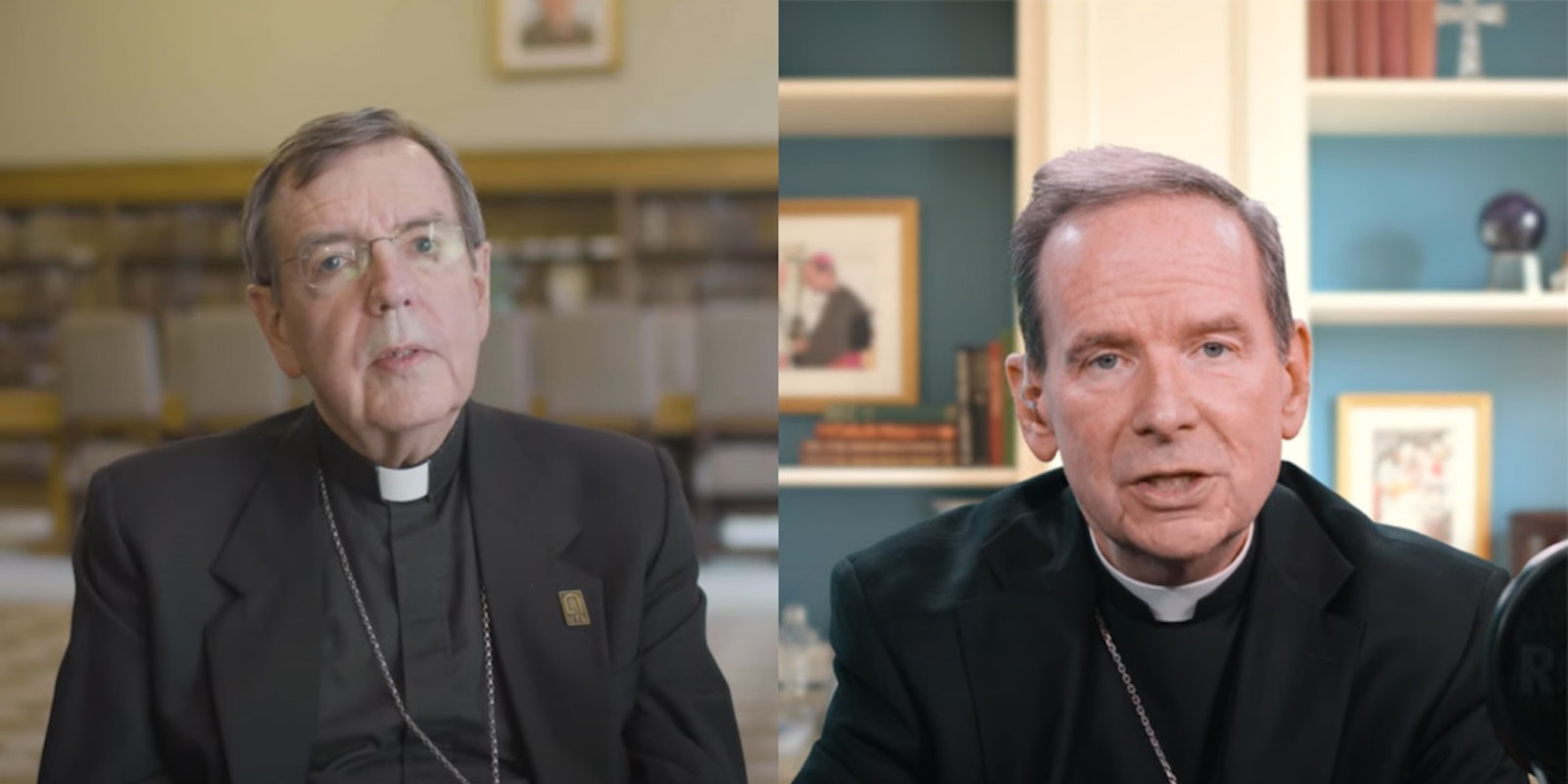 Archbishop Vigneron, who wrote "The Beauty of Truth: Communicating Truth and Love in the Digital Age," in June 2021, spoke about the obstacles facing the Gospel's message of love in an atmosphere in which divisive speech is increasingly the norm.
"A great challenge for us is the milieu in which we try to communicate. There's a tremendous polarization. Everybody recognizes it, and this is creating a contentious atmosphere," Archbishop Vigneron said. "So it's very hard within this milieu to offer the good news, to present our message in such a way that you get a hearing and you don't get caught up in the push and pull, the antagonism that's part of the culture."
The two bishops have been among the most outspoken members of the U.S. episcopate in addressing the increased lack of charity, civility and truth in social communications, calling on Catholics to be discerning in their media consumption amidst a sea of misinformation.
Bishop Burbidge, who in 2020 authored his own pastoral letter, "In Tongues All Can Hear: Communicating the Hope of Christ in Times of Trial," said it's important for the Church to maintain its own clear channels of communication, rather than relying on secular media coverage that may not always tell the full story.
"Sometimes the coverage we receive as a Church is not always accurate or as respectful as we would hope, but we cannot just sit back and complain or be paralyzed by it," Bishop Burbidge said. "We (must) take the initiative to be proactive and use the means available to us to tell our own story, to tell the good news."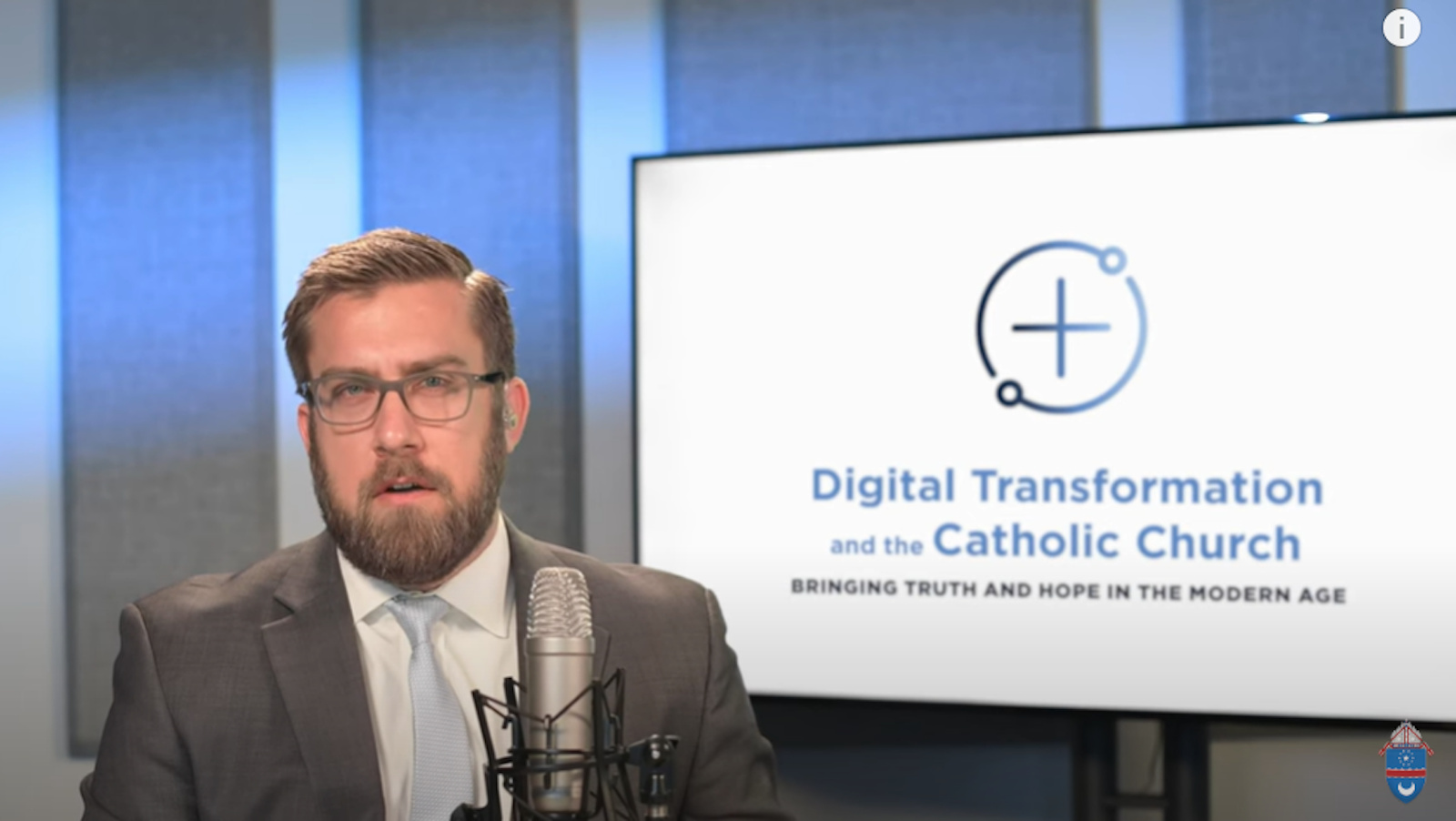 To help Catholics navigate potential biases and misleading claims, Archbishop Vigneron cautioned Catholics to be on guard for five "warning signs," including claims that contradict the Church's deposit of faith, "ad hominem" arguments that attack a person's character instead of the argument at hand, and the manipulation of emotions designed to distract a media consumer from the facts.
The anonymous nature of social media gives way easily to personal attacks and emotional responses, which is opposed to the love of Christ, Archbishop Vigneron said.
"Speech is one of the most important services we can give to one another," Archbishop Vigneron said. "It's the way we share the world and one another. In my mind, it's a call to holiness. Speech is an act that should be enlivened by love, by charity. Even if I don't see the person I'm in contact with, I am in contact with that person; that's why it's called 'social' media. I owe the people with whom I'm in contact love. That's a service that I offer."
Both bishops acknowledged that digital and social media can be a positive tool for evangelization, and both praised the response of Catholic parishes, pastors and schools to the COVID-19 pandemic as an example.
"The faithful were so uplifted. They were able to, during those difficult times, view the Mass via livestream and make a spiritual communion," but instead of a national broadcast, "it was their pastor, their priest," Bishop Burbidge said. "That bond was strengthened in so many ways, and it reflected in so many ways the pastoral love and care that our priests had for the faithful."
"Throughout that process, we've learned some important lessons we should not ignore, that the continued use of the media can be a great help. I think of practical situations where maybe a grandparent in another state cannot attend the confirmation of a grandchild; when it's livestreamed, there is a connection," Bishop Burbidge added.

Following the two bishops' conversation, Atwell moderated a panel discussion with four Catholic media experts including Al Kresta, president and CEO of Ave Maria Radio; Teresa Tomeo, an author and host on Ave Maria; Greg Erlandson, editor-in-chief of Catholic News Service; and Fr. Charles Fox, vice rector of Sacred Heart Major Seminary in Detroit and a frequent contributor to Catholic media.
The panel discussed a wide range of topics, including the role Catholic media can play in combating some of the falsehoods and negative portrayals of the Church in secular newspapers, TV broadcasts and online reporting.
In fact, Kresta said, it's becoming rarer and rarer for secular publications to have dedicated religion reporters at all, which can lead to the misreporting of facts.
"You would think the New York Times, writing a story about inflation or recessions, would have someone with an economics background writing the story," Kresta said. "But that's not what they do with religion stories."
By contrast, Catholic media outlets have reporters, editors and producers who understand the nuances of both the Church and the faith itself, Erlandson said.
"In Catholic media, ideally (journalists) are well-formed in the faith, and they're reporting effectively, efficiently and correctly about what's being said," Erlandson said.
Discerning the type of media one consumes is critically important to forming one's conscience and perception of the world, Tomeo added.
"Keep your eyes focused on Christ, the author of our faith, and look to the Church's documents," Tomeo said. "If we're consuming, as adults, 11 hours of media per day, what are we consuming? What are we watching? And how does it affect your sense of peace? At the end of the day, the Church is not going to steer us wrong."
Resources on Digital Transformation and the Catholic Church
In June 2021, Archbishop Vigneron released a pastoral note on digital communications, The Beauty of Truth: Communicating Truth and Love in the Digital Age. As with other pastoral notes, it builds on themes introduced in the Unleash the Gospel pastoral letter and provides spiritual and practical advice to help Catholics navigate digital communications and discern the truth in what they read, hear and consume.
As a means of following up on that pastoral note, he engaged in a filmed conversation with Bishop Michael Burbidge of the Diocese of Arlington. In that conversation, Archbishop Vigneron and Bishop Burbidge explore the ways communication has evolved and transformed the way the Catholic Church evangelizes.

Copy Permalink
Culture and Media
Bishops