Archbishop Russell introduced as Detroit's newest auxiliary bishop: 'I'm here to share in your joys and your sorrows,' he says
DETROIT — Archbishop Paul F. Russell was introduced to the Detroit presbyterate on the day he was announced as the archdiocese's newest auxiliary bishop during a meeting of the clergy at Sacred Heart Major Seminary on May 23.
The Vatican diplomat-turned-auxiliary bishop expressed gratitude to Pope Francis for his most recent assignment and thanked Detroit Archbishop Allen H. Vigneron and other clergy for their warm reception.
"I'm here to share in your joys and your sorrows, your happiness and your challenges," Archbishop Russell said.
Archbishop Russell was consecrated an archbishop on June 3, 2016, by Cardinal Sean P. O'Malley of Boston after he was named apostolic nuncio to Turkey and Turkmenistan (and later Azerbaijan). He retains the personal title "archbishop" with his new assignment as Detroit's newest auxiliary bishop.
"I know there are going to be challenges," Archbishop Russell told the priests. "Jesus is with us in everything, and he's got this. Anything I can do to help Archbishop Vigneron and to help you, I'm here at your service."
Archbishop Russell comes to Detroit after nearly 30 years as a Vatican diplomat all over the world, including Ethiopia, Zimbabwe, Turkey, Switzerland, Nigeria and Taiwan. He was ordained a priest in the Archdiocese of Boston on June 20, 1987, before beginning his time in the Vatican diplomatic service.
Archbishop Russell's ministry has taken him across Asia, Europe and Africa, but he has a Michigan connection, having lived in Alpena in northern Michigan with his mother and sister from the third grade until graduating from Alpena High School and moving to Boston to study for the priesthood.
Archbishop Russell returned to Michigan during the summers while studying at St. John's Seminary, even working as a counselor at the Archdiocese of Detroit's CYO camp in Port Sanilac, where he met two future Detroit priests — fellow Auxiliary Bishop Robert J. Fisher, and Fr. Ed Zaorski, pastor of St. James Parish in Novi.
"I've known Archbishop Russell for almost 40 years, I think," Fr. Zaorski told Detroit Catholic. "We've grown as brothers, and I feel Archbishop Russell really has a deep sensitivity and a pastoral approach and style. He's a diplomat. He had to negotiate and try to do the best he could to protect the Church and Christians, and I think he's done an excellent job. He's got a very caring and pastoral style."
Fr. Zaorski kept in contact with Archbishop Russell throughout his travels around the world, even visiting him at his various assignments to see how he carried out his role as the pope's ambassador in different places.
"We took a trip to an island in Taiwan, and he was supposed to confirm the Aboriginal people there," Fr. Zaorski said. "And when he got there, they wanted to go to confession. The ceremony started three hours later, because he felt the need of the people that this is what they wanted. That's his whole approach to people. He is an excellent listener, and that's probably a characteristic a diplomat needs, but it's also a characteristic that a bishop needs, to be a good listener."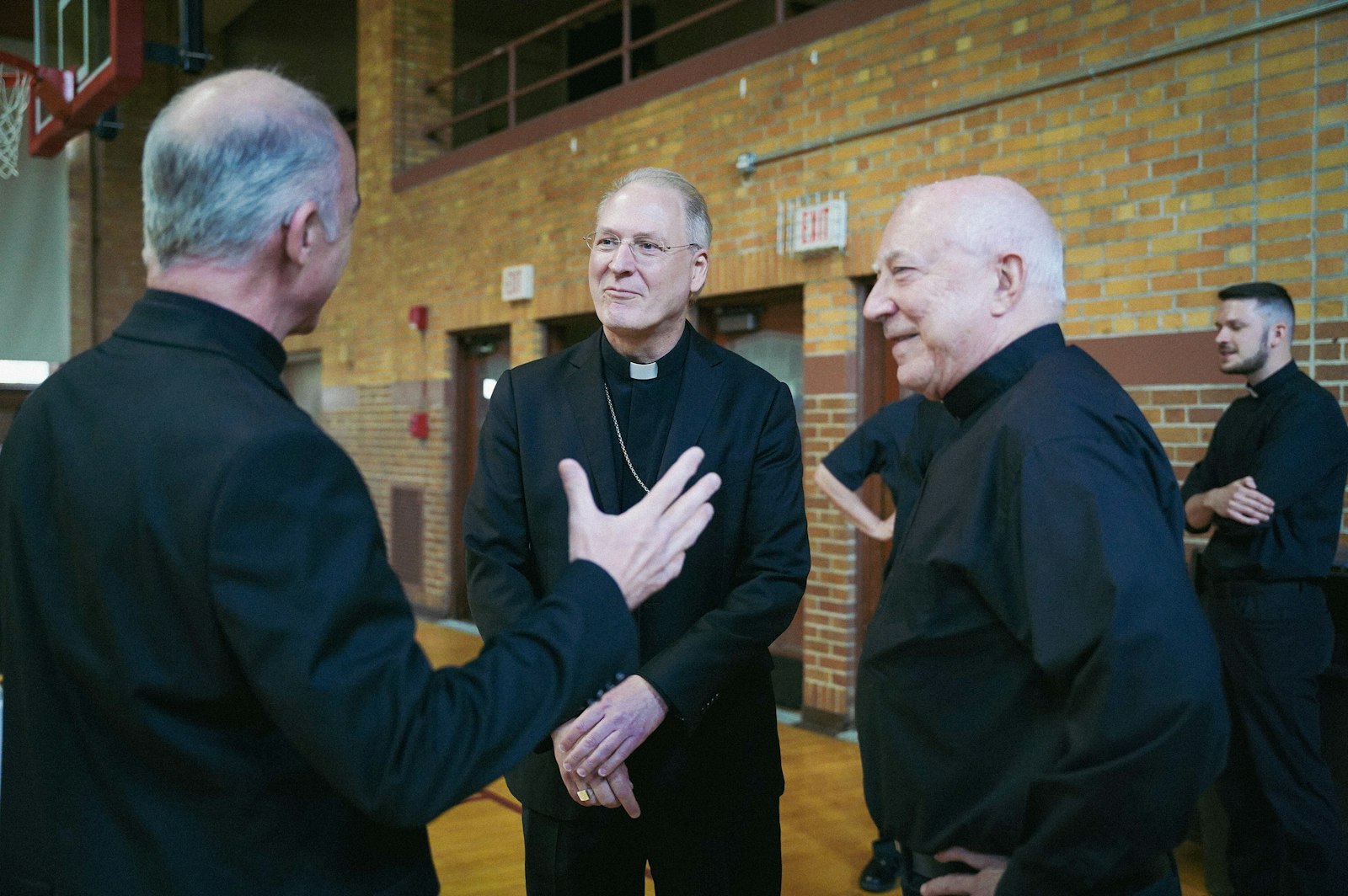 Other priests who know Archbishop Russell emphasized his listening skills and his desire for priests to be fraternally with one another.
Fr. Tony Richter, pastor of Guardian Angels Parish in Clawson, met Archbishop Russell when Fr. Richter was a seminarian and Archbishop Russell was a priest. He would pick then-Fr. Russell up from the airport when he was flying back home to Michigan.
The two remained friends and even looked out for each other's families when they could — especially when Archbishop Russell was conducting his duties around the world.
"One of the things I realized about Archbishop Russell is how much he cared for priests and spoke about how brother priests should take care of each other," Fr. Richter said.
Fr. Richter recalls a time when Archbishop Russell's mother visited the future archbishop when he was in China. On her way back home to Alpena, she needed a ride from the airport, but a miscommunication left her stranded.
"She got caught up in trying to get a ride back to Alpena, and something didn't work out the way it was supposed to, so his mother spent a couple nights at my parents' house on the way back to Alpena," Fr. Richter said. "He was extremely grateful for that, saying, 'That's what I love about the priesthood, how we all take care of each other and each other's families and parents.'"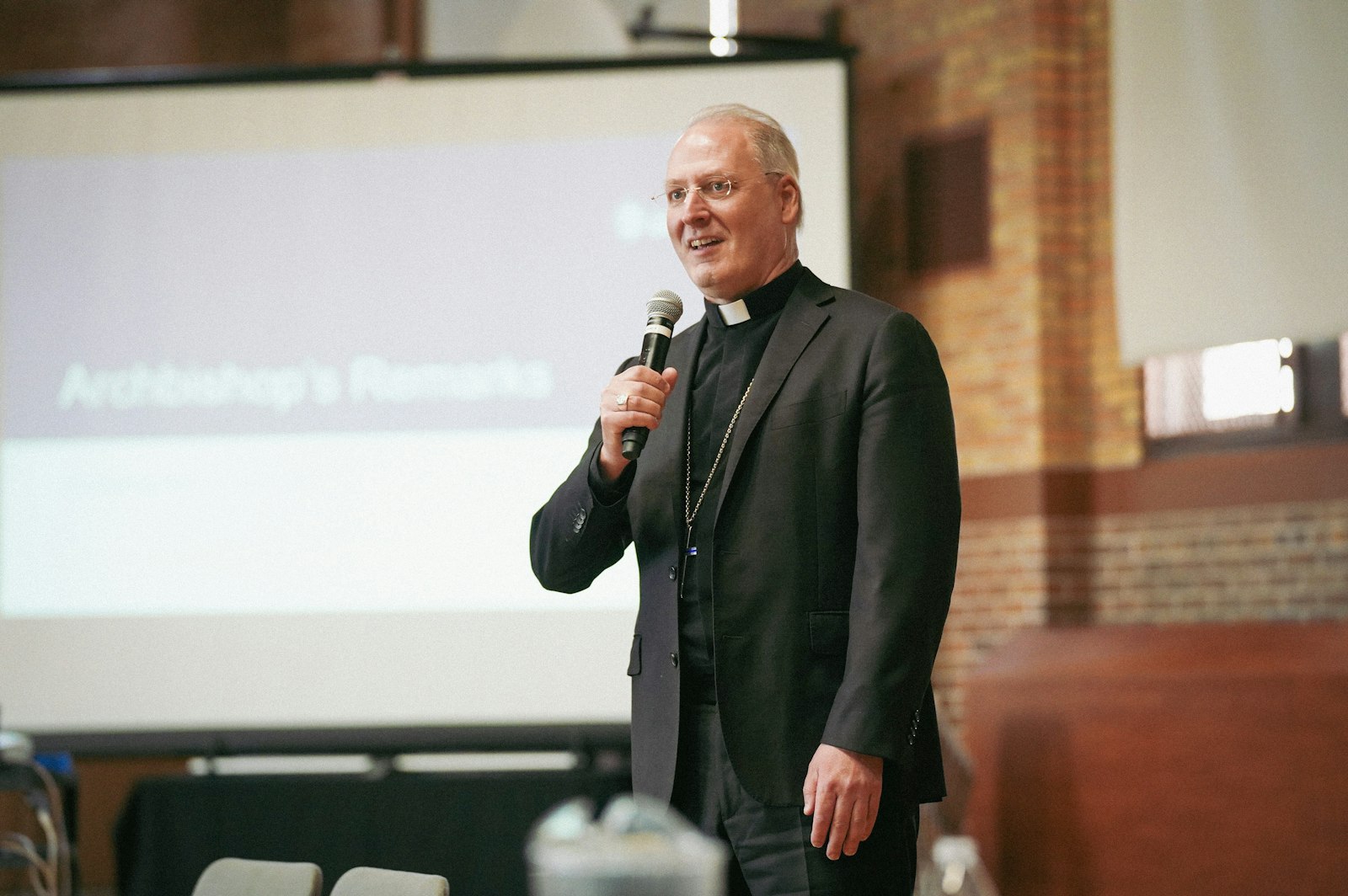 Fr. Richter was on hand when then-Msgr. Russell was ordained an archbishop and remembered seeing people from all around the world attending his episcopal consecration.
"He related to all the different cultures and all the different people who were at his consecration; even his own family came from all over the country," Fr. Richter said. "It was very evident he loves people, cares for people, and I think he has a gift for including all different types of people in coming together; that's a gift he has.
"He sees all around the world people have goodness within them, and even in this small little corner of the world in southeast Michigan, he would see that people are very good, and he wants to help people become even better," Fr. Richter added. "Seeing how he ministers to people throughout the whole world, how he is genuine with them, that's how he will minister to people in the Detroit area."
Copy Permalink
Bishops