Former apostolic nuncio to Turkey on returning to Michigan roots: 'Detroit has always been close to my heart'
DETROIT — In a surprise announcement early May 23, Pope Francis appointed a longtime Vatican diplomat with ties to Michigan as an auxiliary bishop of the Archdiocese of Detroit.
Archbishop Paul Fitzpatrick Russell, 63, who until February was serving as apostolic nuncio to Turkey and Azerbaijan, and until the announcement as apostolic nuncio to Turkmenistan, will become the 31st auxiliary bishop in the Archdiocese of Detroit's history, the Holy See announced.
Because Archbishop Russell was given the title "archbishop" by Pope Francis upon his episcopal consecration and appointment as nuncio in 2016, he will retain that title while serving as auxiliary bishop to current Detroit Archbishop Allen H. Vigneron.
"We are deeply grateful to Pope Francis for appointing Archbishop Russell as auxiliary bishop for the Archdiocese of Detroit, and we are similarly grateful to Archbishop Russell for accepting this new ministry," Archbishop Vigneron said. "We are particularly glad to welcome Archbishop Russell home to Michigan, where he grew up and first heard the Lord call him to the priestly vocation. Having served the Church all over the world, Archbishop Russell brings to the Archdiocese of Detroit a valuable perspective of the universal Church and our mission to make joyful missionary disciples of all nations."
Although the timing of Archbishop Russell's appointment — and his background — are a surprise, it isn't totally unexpected, given that another of Detroit's auxiliary bishops, Bishop Donald F. Hanchon, will turn 75 years old in October, the age at which bishops are required by canon law to submit their resignations to the pope.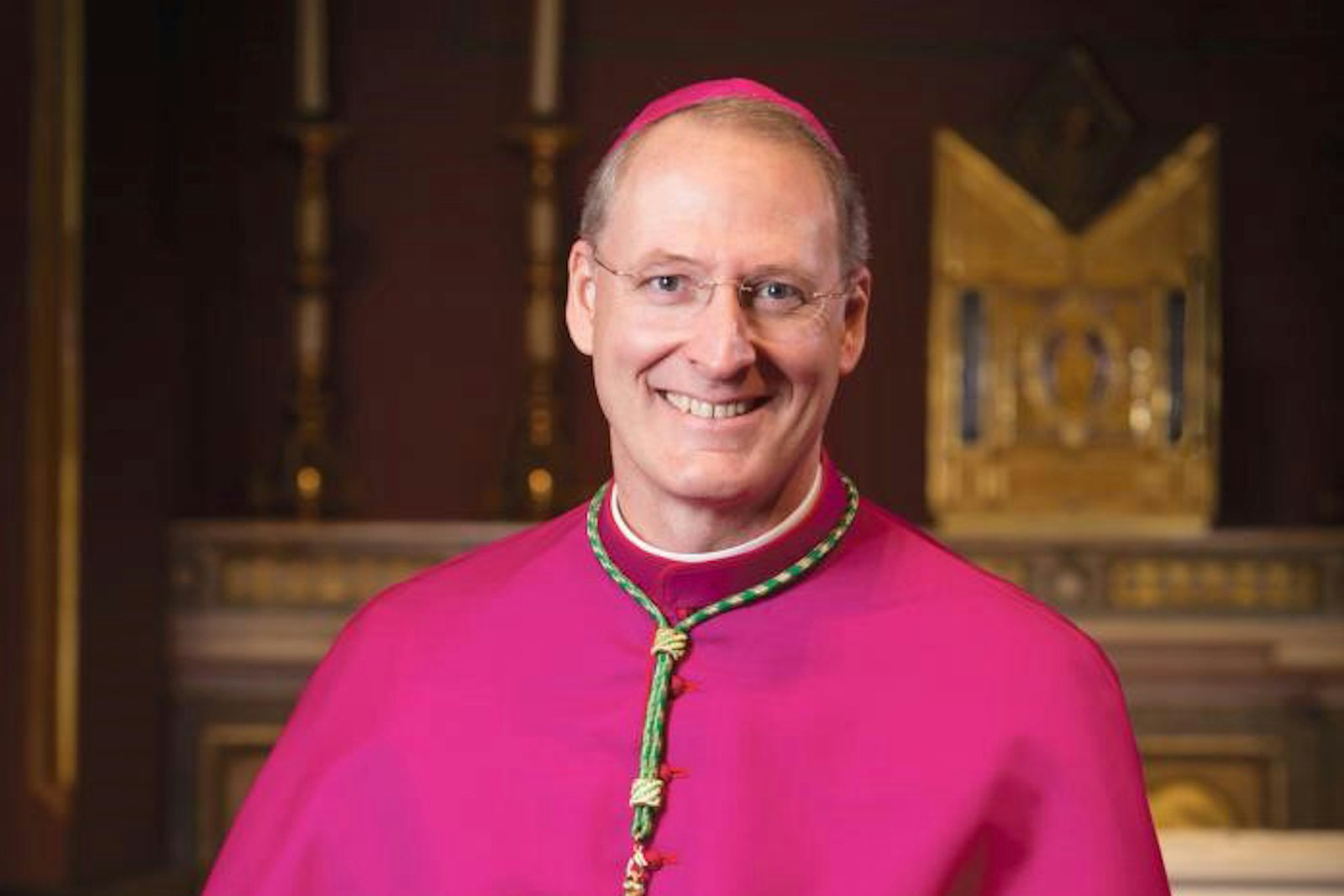 Archbishop Russell's appointment means Detroit will continue to have four active auxiliary bishops after Bishop Hanchon's retirement, along with current Auxiliary Bishops J. Arturo Cepeda, Gerard W. Battersby and Robert J. Fisher. Detroit also has two currently retired auxiliary bishops, Bishops Francis R. Reiss and Thomas J. Gumbleton, as well as retired Cardinal Adam J. Maida.
Like all auxiliary bishops, "my task is to assist Archbishop Vigneron as the chief shepherd of the Archdiocese of Detroit," Archbishop Russell said. "I'm open to serve however he'd like me to serve."
Archbishop Russell will begin his service to the Archdiocese of Detroit on July 7, when he will be welcomed to the archdiocese during a 2 p.m. Liturgy of Welcome and Inauguration of Ministry at the Cathedral of the Most Blessed Sacrament.
Roots in Michigan
While he's never served as a priest or bishop in Michigan, Archbishop Russell retains deep ties to the state.
Born May 2, 1959, in Greenfield, Mass., to the late Isabelle Fitzpatrick and Thaddeus Russell, Archbishop Russell spent the majority of his childhood in northern Michigan after moving to Alpena with his mother and sister when he was in third grade.
Although he returned to the Archdiocese of Boston to pursue the priesthood, being ordained June 20, 1987, Archbishop Russell said he's always considered the Great Lakes state home.
"I am so happy with Pope Francis' decision to send me home and look forward to serving as an auxiliary bishop in the Archdiocese of Detroit and immersing myself in the mission and ministry of the local Church in southeast Michigan," he said in a May 23 news release.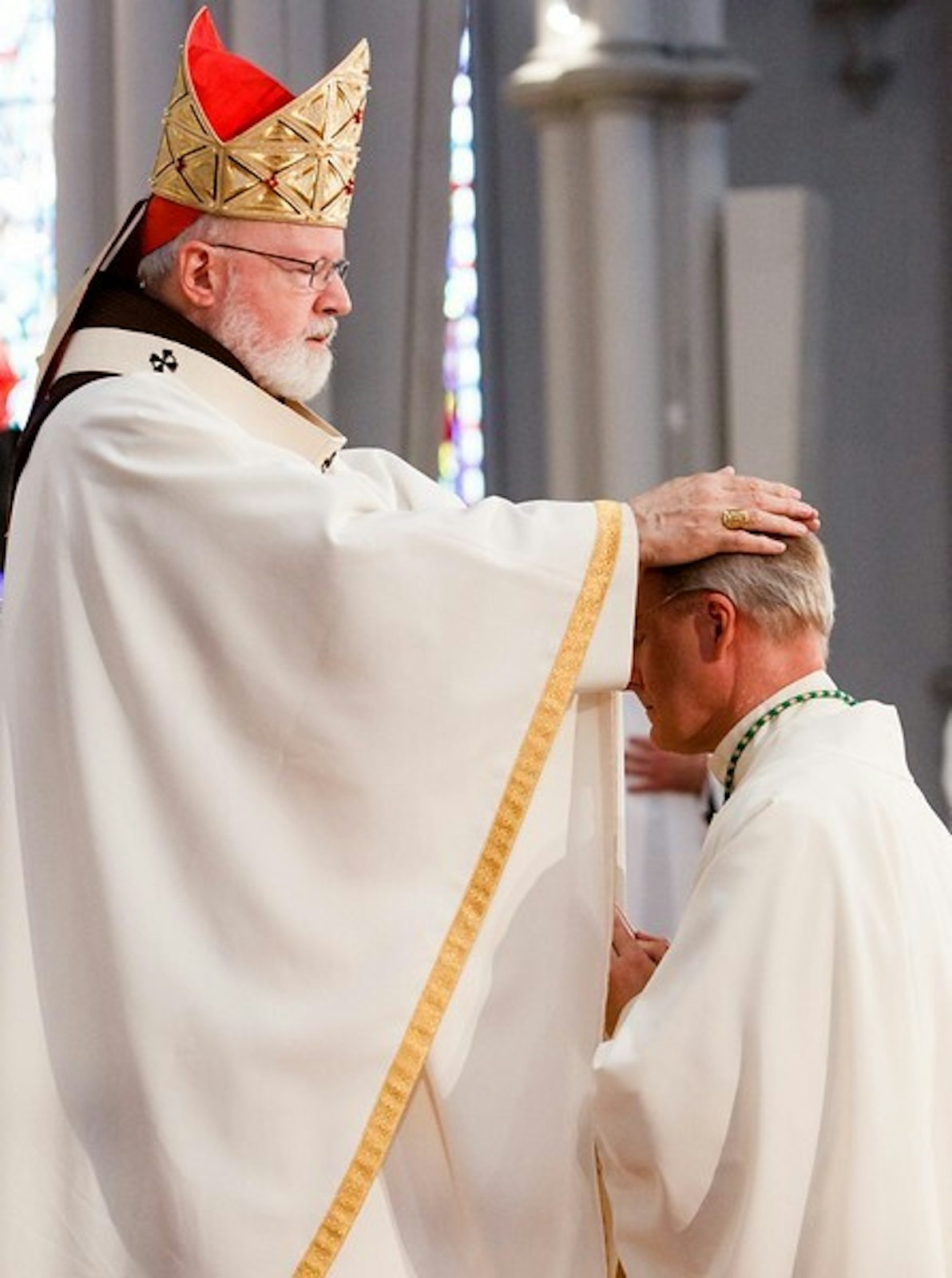 Archbishop Russell said he is "thrilled" to be returning to his roots after spending the majority of his 35 years in ministry as a member of the Vatican's diplomatic service, serving as a representative of the Holy See in apostolic nunciatures in Ethiopia, Zimbabwe, Turkey, Switzerland and Nigeria, as well as leading the Vatican's diplomatic mission in Taiwan.
In 2016, Pope Francis appointed him apostolic nuncio to Turkey and Turkmenistan — and later Azerbaijan — which carried with it his elevation to the rank of archbishop. On June 3, 2016, then-Msgr. Russell was consecrated a bishop in the Cathedral of the Holy Cross in Boston by Cardinal Sean P. O'Malley.
Among his two co-consecrators was Archbishop Vigneron, as well as Archbishop Leo Cushley of St. Andrews and Edinburgh, Scotland.
In fact, Archbishop Russell said, he's known Detroit's current archbishop for nearly 30 years, since the time when then-Fr. Vigneron was working in the Vatican's Secretariat of State under then-Msgr. (now Cardinal) James M. Harvey, and Fr. Russell was personal secretary to Boston's cardinal archbishop.
The two first met in Boston, when Fr. Vigneron accompanied Msgr. Harvey during a visit to the Massachusetts archdiocese.
"Actually, it was Fr. Vigneron who recommended me to Msgr. Harvey as a potential candidate for diplomatic service," Archbishop Russell told Detroit Catholic in an interview prior to the public announcement of his appointment. "We have been friends since that time."
A few years after Archbishop Vigneron was named a Detroit auxiliary bishop in 1996, then-Msgr. Russell was working in the apostolic nunciature in Turkey.
"He and Fr. (Ed) Zaorski (current pastor of St. James Parish in Novi) came to Turkey, and the three of us went to the sites of the first seven ecumenical councils, and read the texts of the councils on site," Archbishop Russell recalled. "That was a great experience. I'm delighted Archbishop Vigneron is willing to welcome me to the Archdiocese of Detroit as one of his auxiliary bishops."
As a seminarian, he worked at the Archdiocese of Detroit's CYO camp in Port Sanilac, where he got to know two other future Detroit priests — including another future auxiliary bishop — Bishop Fisher and Fr. Zaorski, with whom he retains close friendships, he said.
Archbishop Russell even served as co-consecrator at the episcopal ordination of Bishop Fisher and Bishop Battersby in 2017 at the Cathedral of the Most Blessed Sacrament.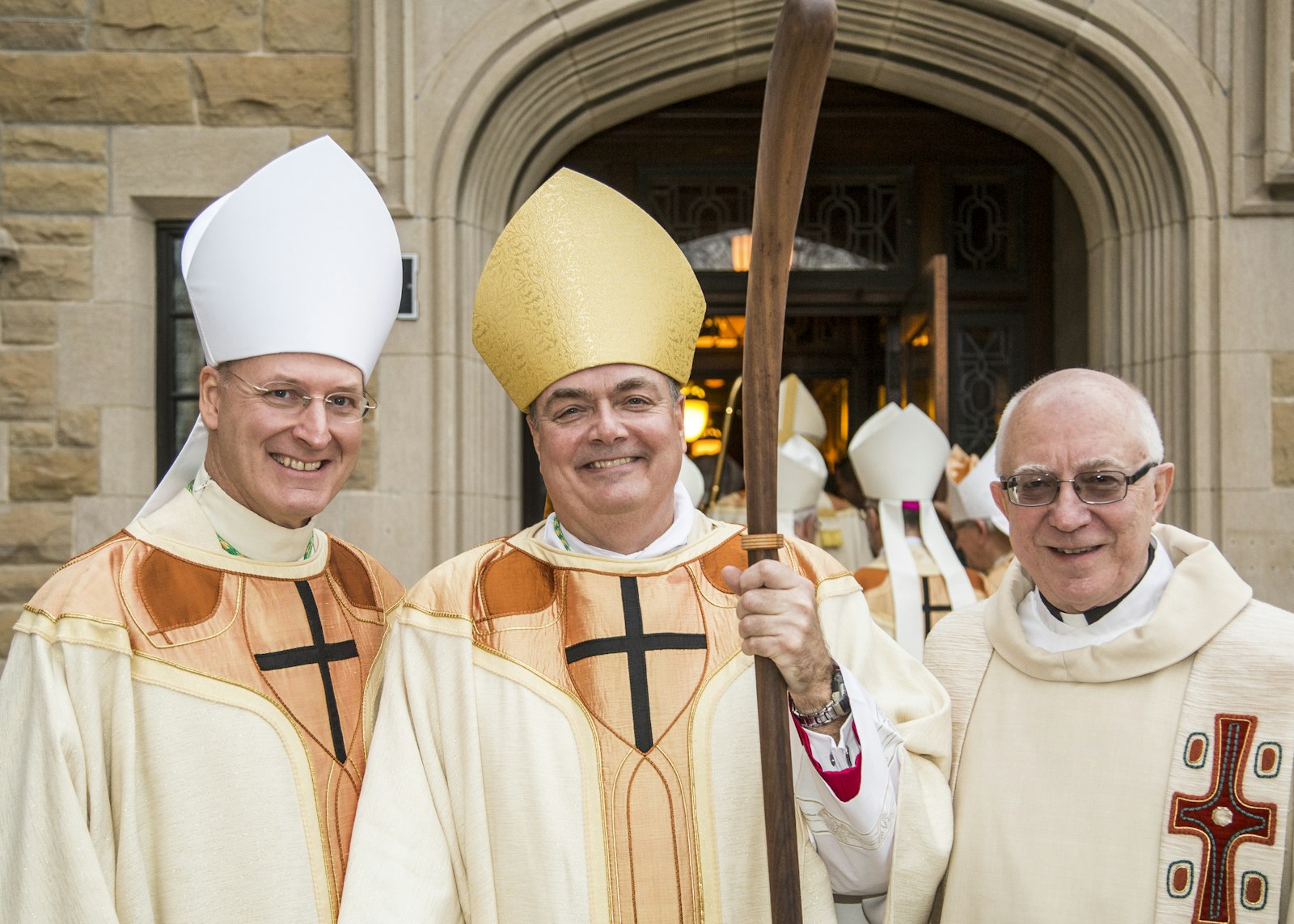 "Those friendships have been really important to me over the years — not just Bishop Fisher and Fr. Zaorski, but other priests of Detroit with whom I've become friends," Archbishop Russell said.
Detroit has always been close to Archbishop Russell's heart — in a literal way, even. The pectoral cross he wears as a bishop originally belonged to a Detroit priest in the mid-1800s, a relative of a cousin's wife.
"My cousin's wife's family name is Van Antwerp, and her father was the mayor of Detroit (in the late 1940s). She had a great uncle, Msgr. Francis J. Van Antwerp, who was vicar general of the Detroit diocese in the late 1800s," Archbishop Russell said. "He was a special type of monsignor who was able to dress as a bishop, even though he wasn't a bishop, and he wore the miter and pectoral cross. She gave me that cross, and I've always had it with me."
At his own episcopal ordination in 2016, Archbishop Russell wore that pectoral cross — a special moment for him.
"That's why I say Detroit is always close to my heart," he said. "That's the story behind it."
Holy examples
While he never met Msgr. Van Antwerp whose cross he wears, another Michigan priest relative had a sizeable impact on his vocation.
From an early age, Archbishop Russell had an inkling God was calling him to the priesthood, influenced in no small part by the example of his great-uncle, Fr. Robert Emmet Fitzpatrick, a priest first of the Diocese of Grand Rapids, then Saginaw, then Gaylord.
"He was my grandfather's youngest brother, my mother's uncle, and my mother loved him. I got to know him, and he was very influential in my life," Archbishop Russell said.
When he was in first grade, Archbishop Russell recalls, his teacher asked his class to draw pictures of what they wanted to be when they grew up, and Russell drew a picture of his great-uncle.
"I remember saying, 'I want to be a priest,' and the teacher in the public school was so shocked. She said, 'Really? That's so boring,'" Archbishop Russell said. "But I had that very strong idea from a young age and my ministry has been very far from boring."
Upon moving to Michigan, he enrolled at the parish grade school of St. Bernard of Clairvaux Parish, where his great-great grandfather was one of the founding members in the late 1800s. After graduation from Alpena High School in 1977, he spent a year as an exchange student in France, where he studied under the tutelage of Fr. Michel Vadon, who "got me thinking about the big questions in life," Archbishop Russell said.
Returning to the U.S., the feeling of priesthood came flooding back, and he decided to enter St. John's Seminary in Boston, where his father's family lived.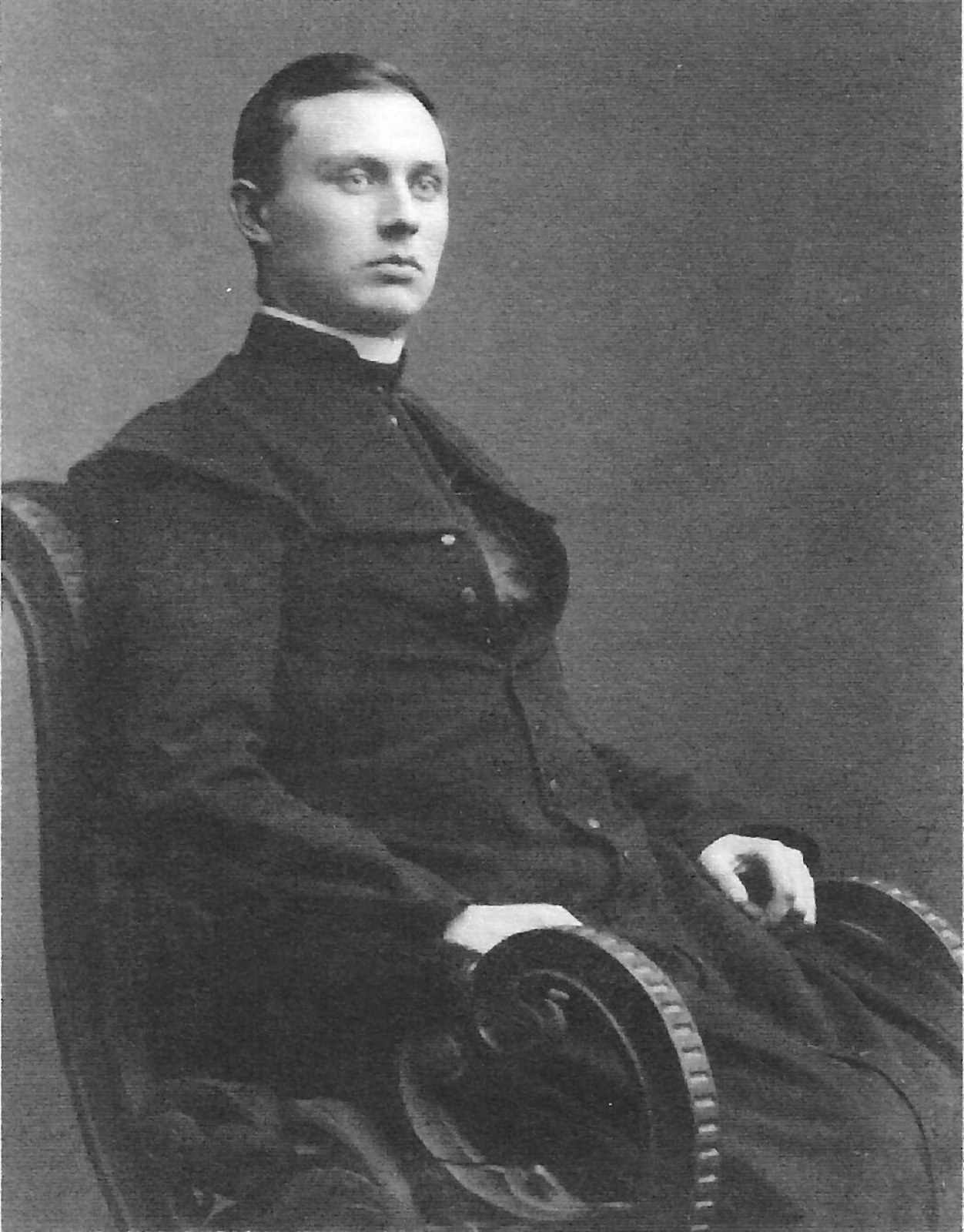 That's when his paternal grandmother gave him a photograph of her cousin, Fr. Michal Piaszczynski, a Polish priest who had been killed in the Nazi concentration camps during World War II.

His grandmother had escaped Poland after the first world war, "but she didn't talk about it too much," Archbishop Russell said. "She had some painful experiences in Poland."
In 1999, when Archbishop Russell learned Pope St. John Paul II would beatify Fr. Piaszczynski along with a number of other Polish martyrs, he was shocked.
"I called the Congregation for the Causes of Saints (in Rome). I was in Ethiopia at the time, and I called them and they confirmed it," Archbishop Russell said. He attended the June 13, 1999, beatification Mass in Warsaw with his sister and aunt.
Archbishop Russell said he was told his relative was chosen from among the martyrs to receive beatification based on testimony and evidence of his life in the camp, which included a story about his heroic act of generosity.
"There's a story that the prisoners were all starving, and no one had enough to eat. Each day, they got half of a piece of bread. My cousin gave his portion of bread to one of his Jewish fellow inmates," Archbishop Russell said. "The Jewish man said to him, 'I know you Christians believe God is present in the bread in your churches, but I believe God is present in this bread you're giving me now.'
"I was very moved by that story, and I always keep his photograph on my desk," Archbishop Russell said. "In the face of a difficult, inhuman, unspeakably evil situation, my cousin not only kept his humanity and faith, but even increased them. His example means a lot to me."
A global perspective
While he did spend a year living and studying Spanish in Bolivia as a seminarian, traveling the world as a diplomat wasn't always in Archbishop Russell's plans. When he was ordained in 1987, he expected his priesthood would carry on like most young priests: settling down in a parish.
It started out that way. His first assignment was at Sacred Heart Parish in West Lynn, Mass., an inner-city parish where he had relatives. After serving there for five years, he was transferred to St. Eulalia Parish in Winchester.
His second assignment didn't last nearly as long — only three days. Cardinal Bernard Law, archbishop of Boston, asked Fr. Russell to be his secretary.
"I was really shocked," Archbishop Russell said. "Working for the cardinal was the furthest thing from my mind."
It was during this time that Fr. Russell met then-Fr. Vigneron, who had the idea that Fr. Russell could serve as one of the Holy See's diplomats.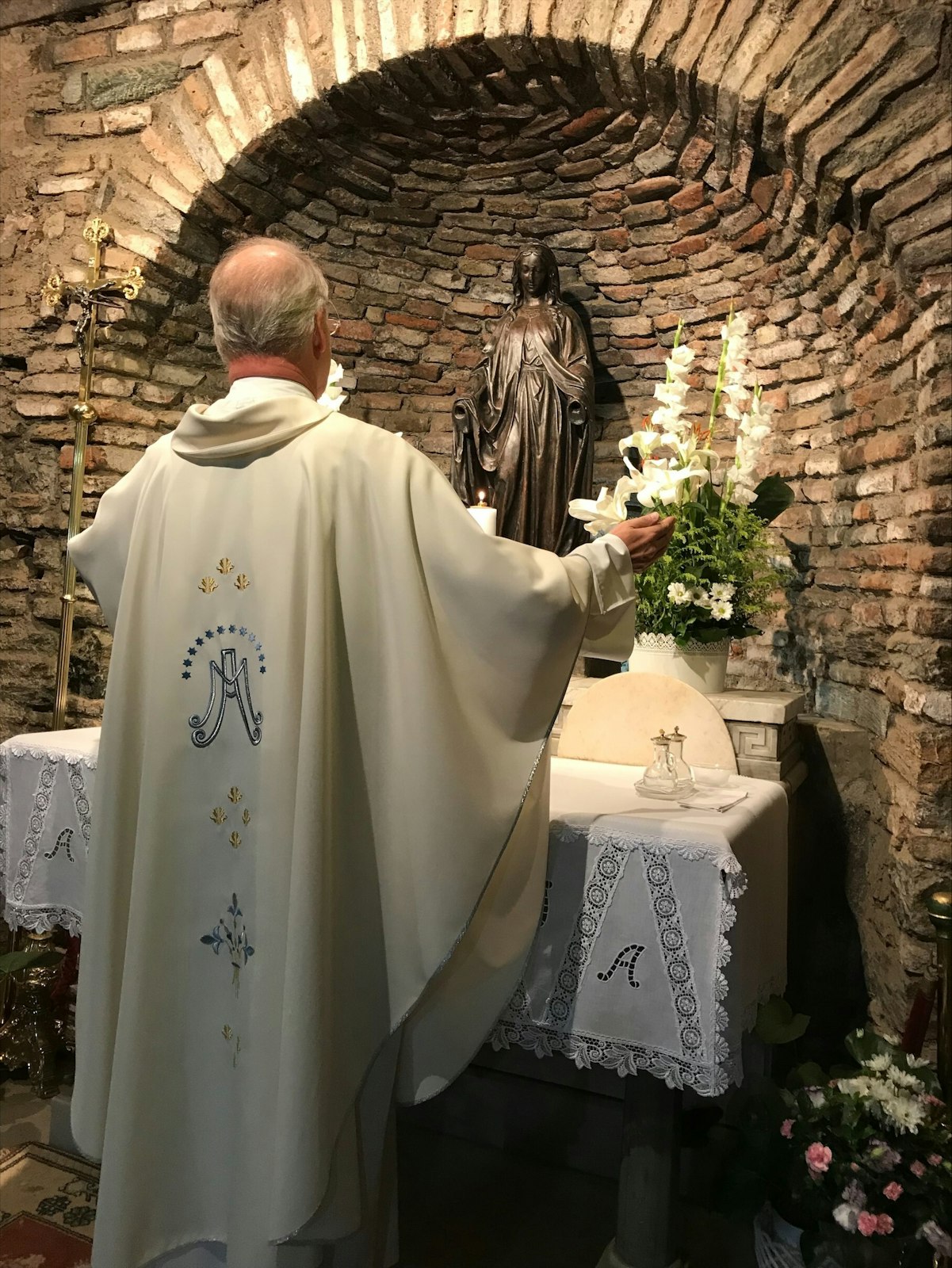 "God surprised me again," Archbishop Russell said of being asked to enter the diplomatic service. "But the cardinal told me to think about it, pray about it, and it took me about a month to discern. But I've always thought, if the bishop asks me as a priest to do something, we make a promise of obedience. So I wanted to be open to it and give it a try."

In 1993, he was sent to Rome to study at the Pontifical Ecclesiastical Academy, which trains Vatican diplomats. While there, he earned a licentiate in canon law, and two years later a doctorate in canon law from the Pontifical Gregorian University.
After graduating in 1997, he began working in the diplomatic service under Msgr. Harvey, who was then assessor to the Secretariat of State. Six months later, he received his first assignment outside of Rome, in the apostolic nunciature to Ethiopia, Eritrea and Djibouti in Ethiopia.
"During my time in Ethiopia, I taught at the national seminary," he said. "I also spent time in Zimbabwe, filling in for the nuncio there, who was away for several months."
In 2000, he was transferred to the apostolic nunciature in Turkey and Turkmenistan, and two years after that, to the nunciature in Switzerland and Liechtenstein. In 2005, he was sent to Nigeria.
"The Holy See's diplomats are true diplomats, with a focus on peace and human rights, especially religious freedom," Archbishop Russell said. "But the majority of the work is for the Church — to protect the rights of the Church. One of the most important tasks is the vetting process for the nomination of new bishops."
In 2008, Pope Benedict XVI asked him to take on the role of Chargé d'Affaires in Taiwan — a unique role, given the Vatican's complicated relationship with China and the self-governing island.
"Taiwan has a Jesuit-run faculty of theology that's the only Mandarin-language ecclesiastical faculty in the whole world," Archbishop Russell said. "I was able to work with the government of Taiwan to have priests and sisters from mainland China come to Taiwan to study."
After eight years in Taiwan, the pope called again — Pope Francis, this time. He was going back to Turkey, but this time as apostolic nuncio.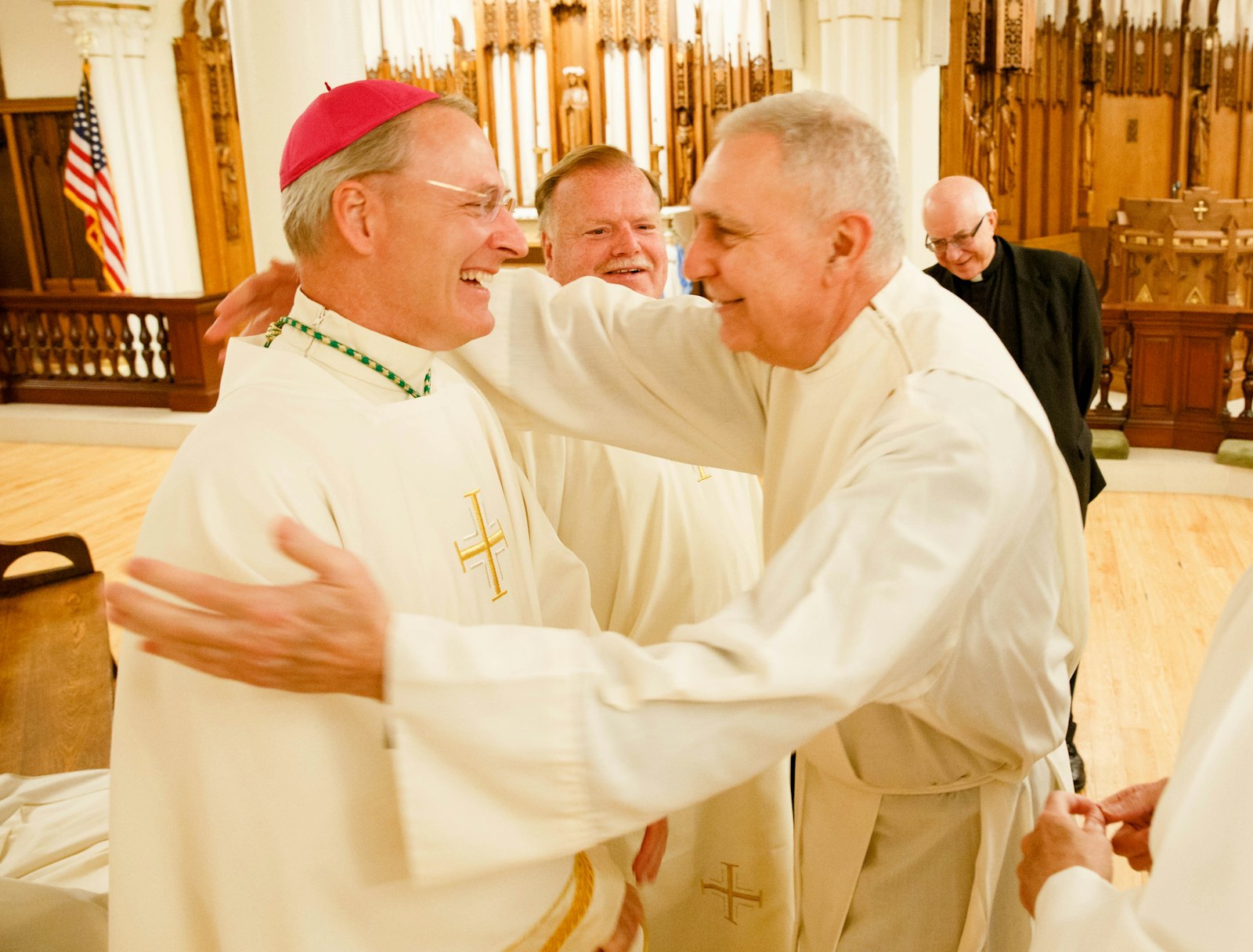 "I was very surprised about that appointment," Archbishop Russell said. "Of course, I'd been to Turkey and Turkmenistan before as deputy head of mission, and I knew the reality there. It was a particularly difficult time for bilateral relations. Pope Francis had been speaking about the Armenian genocide, but the Turkish government refuses to call what happened to the Armenians (in the early 20th century) a genocide."
As a new nuncio — and a new bishop — Archbishop Russell's charge was twofold: to manage the Holy See's diplomatic relations with the country, as well as care for the Christian community there, including about 30,000 Chaldean refugees fleeing violence in Iraq and Syria. In 2018, the pope added Azerbaijan to Archbishop Russell's responsibilities.
Among his work there, Archbishop Russell assisted with the placement of refugee families in countries such as Canada, France and Italy, including humanitarian aid.
"That was a sign of great trust in me from the Holy Father," Archbishop Russell said. "Over past six years, the situation has improved. Relations are better now."
Back to the beginning again
With his diplomatic service coming to a close, Archbishop Russell might finally be getting that diocesan life he thought he'd signed up for as a seminarian.
But a part of him will always miss it.
"The Holy See has always just sent me where they needed me," Archbishop Russell said. "It's been a very beautiful experience. It hasn't always been easy, being so far from home and family, but I will miss it. At the same time, direct pastoral ministry has always been my first love."
Coming to the Archdiocese of Detroit — one of the most ethnically diverse dioceses in the U.S., with Mass celebrated regularly in more than a dozen languages — is in some ways a perfect fit for the new auxiliary bishop.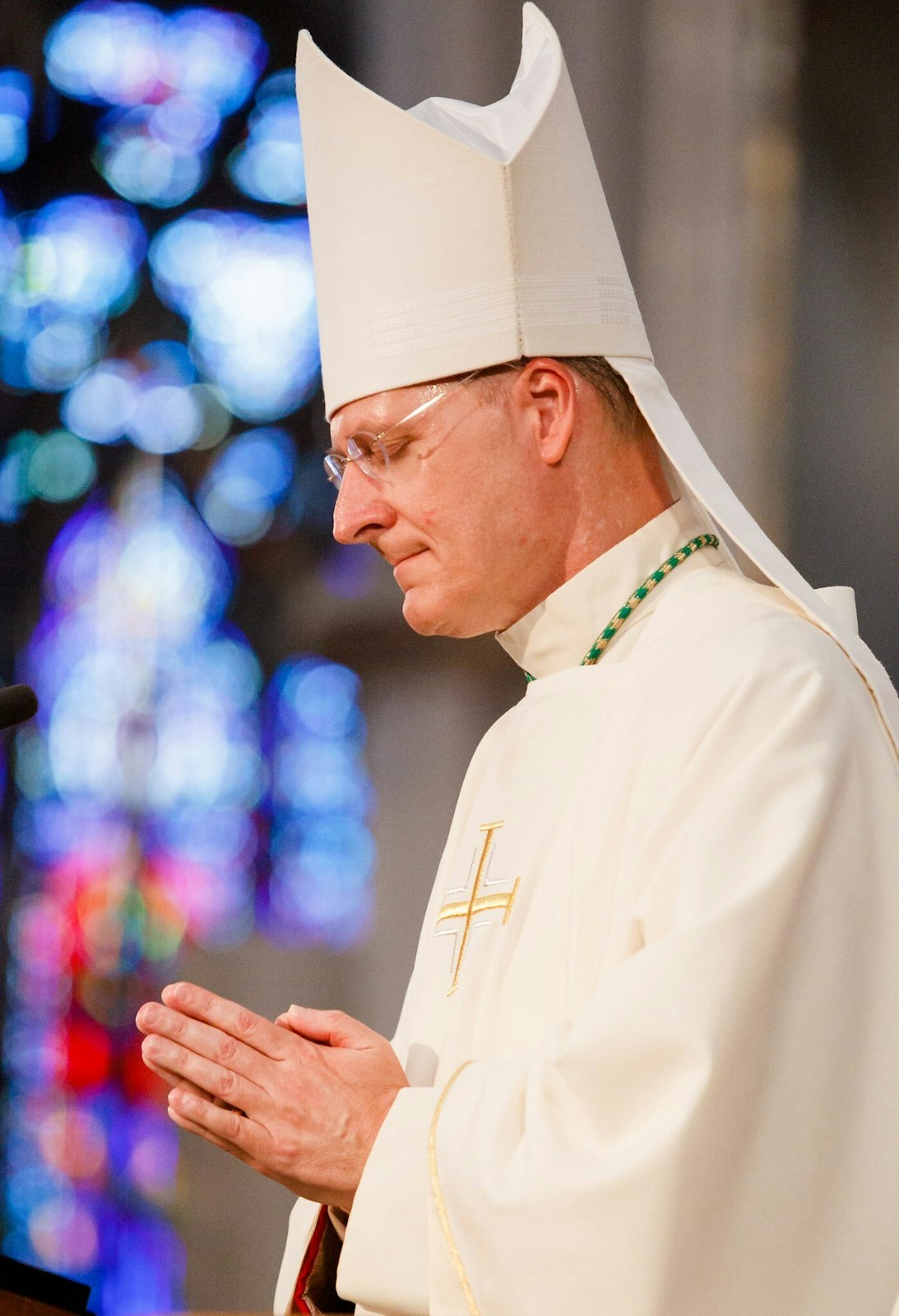 "Human beings are very similar, but we're not all the same," Archbishop Russell said. "Throughout my ministry, I've been able to see the beauty of all these different cultures, and the beauty of the Church in all these different places. It's been a very enriching experience."
Just like the globe he's traversed, Archbishop Russell said it's nice to see his life come full circle — back to the beginning, but in a new way.
"I've found it to be true in my life that I've constantly returned to places where I have been before," Archbishop Russell said, "but both that place and me and the people are different. This isn't the first time I've worked for the Archdiocese of Detroit. When I was 19-22 years old, I worked during summers for the Archdiocese of Detroit at its CYO camp. And now I get to serve the people of Detroit again."
He's looking forward to doing just that — and he can't wait to see the next chapter God writes for his life, he said.
"Over the years, I've learned to stand before God with open hands, trusting in God's love and care and providence," Archbishop Russell said. "God loves us, and He cares about us, and He takes care of us in the best way — better than we could take care of ourselves. I've learned to just abandon myself to divine providence, and let Him do what He wants."
Copy Permalink
Bishops