EAST LANSING — With its 67-58 victory over Grand Blanc in the MHSAA Division 1 state championship basketball game March 26, Warren De La Salle has now won two major state titles this year. There's no debate which was the tougher feat to accomplish, players say.
"It was harder than football," said junior guard Triston Nichols, who plays on both teams. "I honestly felt like our games in football were easier, but we overcame adversity (in basketball) and we did our jobs this season. We just locked in and actually got better and better as the season went on. We just trusted each other and got the job done."
On the gridiron last fall, the undefeated Pilots were everyone's top pick, and they dominated Traverse City Central in the Division 2 championship, 41-14. But the basketball team was under the radar, after winning just three of eight games and finishing fourth among five teams in the Catholic League's rugged Central Division.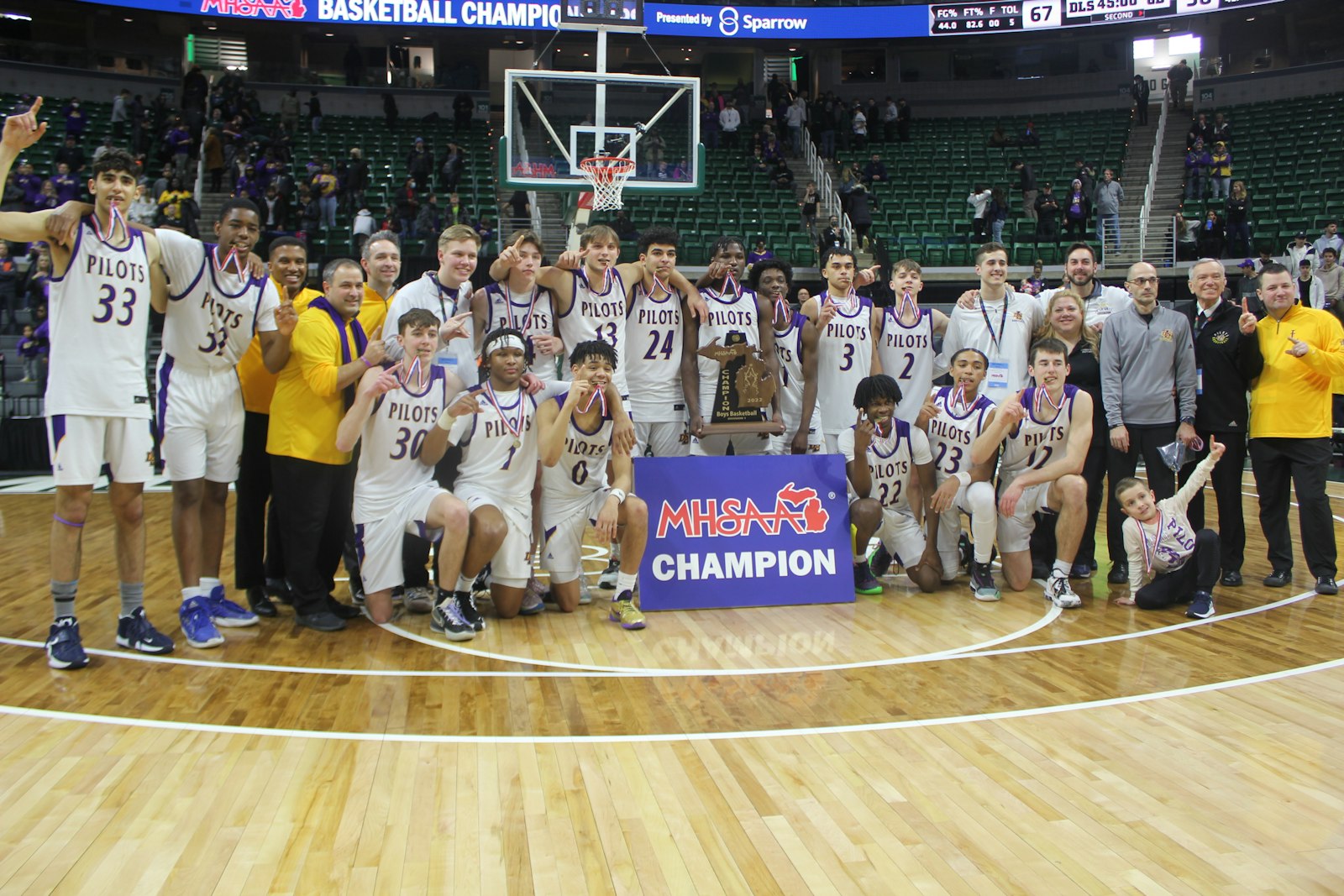 "Early in the season we went into double-overtime with (Orchard Lake) St. Mary's; we showed a lot of resilience in that game but came up short," junior guard Nino Smith said. "A lot of games in the Catholic League came down to last possessions, so I think that really helped us come out here."
De La Salle (20-7) got another shot against St. Mary's in the quarterfinals, knocking them out of the tournament with a last-second 50-48 victory. From there, the Pilots conquered Grand Rapids Northview in the semi-finals, 59-45, which set up Saturday's tilt against the defending state champions at Michigan State University's Breslin Center — De La Salle's first appearance in the title game in 40 seasons.
The Pilots entered the fourth quarter with a slim 42-40 lead, but outscored Grand Blanc 25-18 over the final eight minutes to secure the victory. Smith had 18 points, Nichols had 17 and senior guard Tamario Adley added 12.
They're very deep," coach Gjon Djokaj said. "They're very poised. They can dribble-attack left-hand, they can dribble-attack right-hand, they can create space, they can hit the pull-up, they can hit the three, they can get to the rim, and when you've got guards that can do that, it's a major part of our success."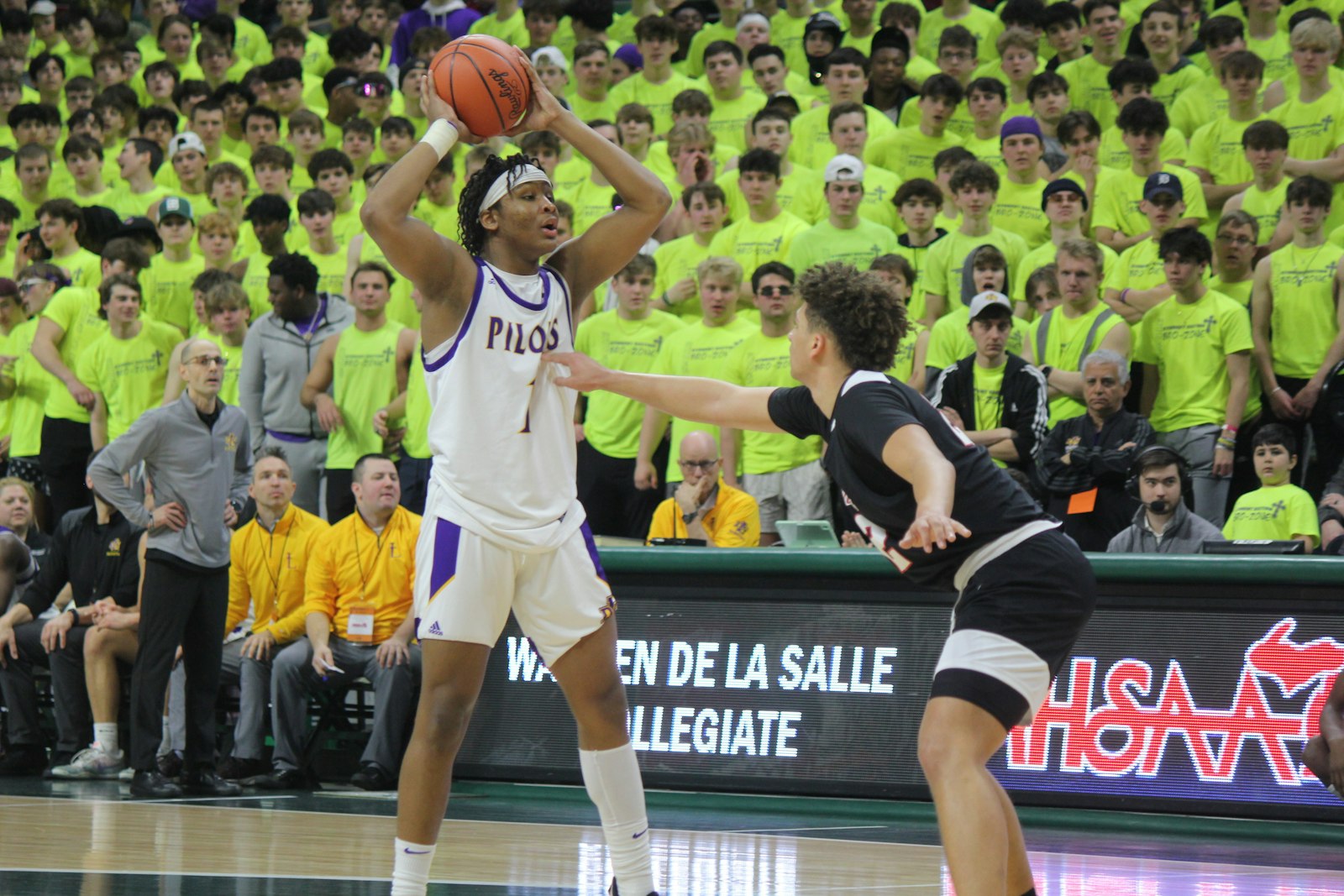 The trio accounted for 20 of De La Salle's fourth-quarter points. Included in Nichols' late output was a three pointer, two make-and-foul drives for lay-ups, and four out of five successful free throws.
"We're playing three or four guards out there at the same time," Djokaj said. "It's an advantage for us and something that a lot of teams can't compete against. Obviously Grand Blanc can — they've got great guards of their own — but I really think we've got the best guards in the state."
The first half was nip-and-tuck, with neither team holding a lead of more than four points. Grand Blanc got out to a 4-0 lead as De La Salle missed its first seven shot attempts, but got back into it in a hurry as Nichols and senior guard Caleb Reese drained threes on back-to-back possessions. Six lead changes finished out the first quarter, which Grand Blanc led, 13-12.
De La Salle went on a 10-4 run midway through the second, ignited by a put-back slam from Michael Sulaka. He also finished the stretch with a jumper in the key, giving the Pilots a 24-21 lead. Grand Blanc tied it up at 24, but Smith hit a 3-pointer from the right corner at the buzzer to send the Pilots into the locker room with a 27-24 lead.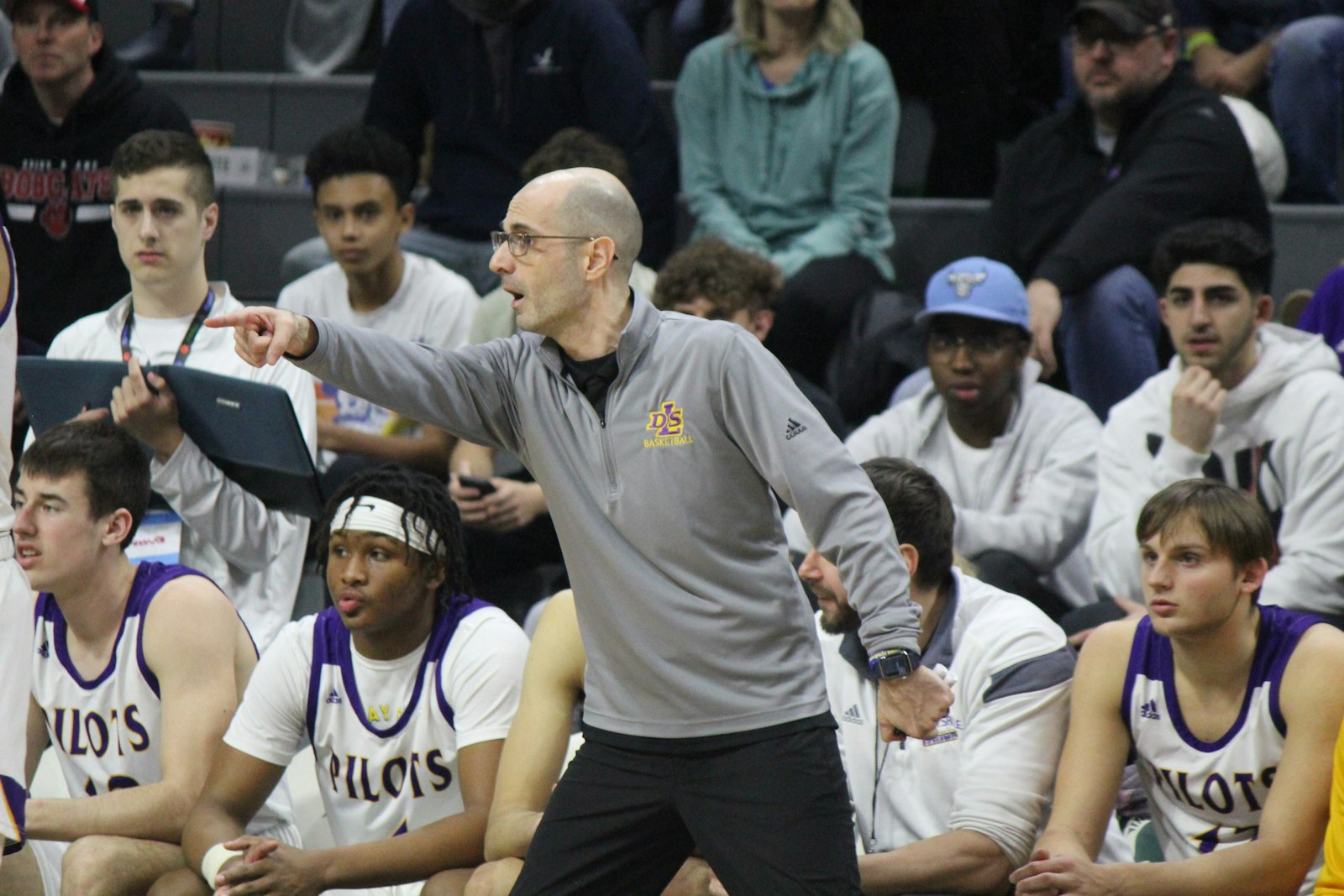 Grand Blanc scored on six of its first eight possessions to open the second half, taking a 38-31 lead. But the Pilots held them off the scoreboard for the next four minutes, answering with a 11-0 run. Sulaka's mid-range basket with 1:37 remaining in the third quarter gave De La Salle the lead for good.
"Our kids showed their resiliency," Djokaj said. "We were able to fight through adversity and make winning plays down the stretch. I felt overall we got contributions from a lot of different players at different times, and that's what we've been kind of built on all season long."
Djokaj described his team as a "collective balance."
"That's probably why it took a little longer for everyone to buy in and connect, because all these guys here can get it done individually," the second-year head coach said. "Triston can do this every game, but he sacrifices. Tamario can do this every game, but he sacrifices. Sacrifice is a huge word in our program. Today it was Nino and Tristan and Tamario; yesterday it was Mikey, the day before it was Caleb, so it's just been consistent change, and the ball does the work."
With the win, De La Salle became the Catholic League's first state champion in basketball since University of Detroit Jesuit won the title in 2015-16. Saturday's win also enabled De La Salle to become the first team since Clarkston in 2017-18 to win football and basketball titles in the same school year.
Copy Permalink