As Detroit parish celebrates centennial of historic St. Cecilia Church, priest marks 50 years of 'preaching Christ' to community
DETROIT — St. Charles Lwanga Parish is celebrating its 100th anniversary in style.
The parish will host a three-day faith extravaganza May 13-15, which includes a celebration of music on Friday night, a gala celebration at the Westin Book Cadillac Detroit on Saturday, and Mass with Archbishop Allen H. Vigneron on Sunday.
St. Charles Lwanga — formerly called St. Cecilia Church — sits near the corner of Grand River and Livernois in northwest Detroit. Known for its famed Ceciliaville Gym and a vibrant history of activism and service in the community, the parish is inviting past and present parishioners, priests and alumni of St. Cecilia School to celebrate the parish's rich legacy and pray for a promising future.
"After 100 years of ministry, it's important to have the generations who have come through this parish and neighborhood to get together and celebrate," Angela Thomas-Weldon, pastoral associate and member of the 100th anniversary planning team, told Detroit Catholic. "This is a time to celebrate, and it is through ministry, music and service we are celebrating our past, our future and our present."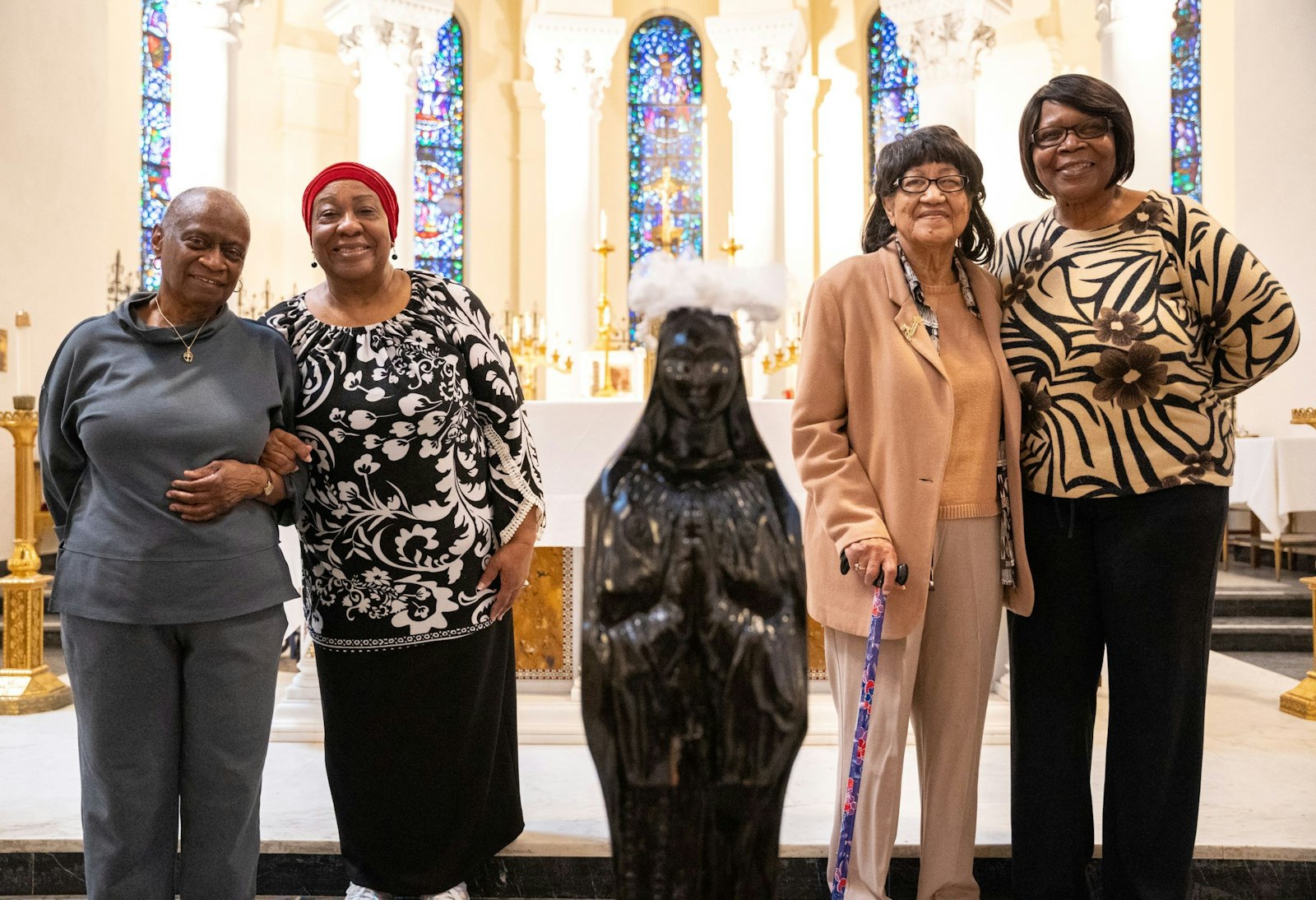 Fr. Theodore Parker, pastor of St. Charles Lwanga, said he expects the May 14 gala to be the largest parish gathering since before the start of the COVID-19 pandemic.

"The pandemic was just awful; it just wrecked us, I would say," Fr. Parker said. "We had maybe almost 200 people at Mass on Sunday, but now it's less than 100. There was so much disruption with our outreach programs and being a community."
The celebration also marks the 50th anniversary of Fr. Parker's priestly ordination. Ordained for the Crosier Fathers and Brothers in 1972, Fr. Parker came to Detroit and St. Cecilia Parish in 2001, and was incardinated into the Archdiocese of Detroit in 2004.
"During the pandemic, we had some preaching and singing and information from the parish (going out) to the community," Fr. Parker said. "There were a lot of parishes livestreaming Mass, so I thought it'd be good to have at least Scripture, preaching, singing, so we had that for over a year."
St. Cecilia Church has seen a lot in the 100 years it's stood in northwest Detroit. The Romanesque, sandstone-colored church in a landmark in the neighborhood.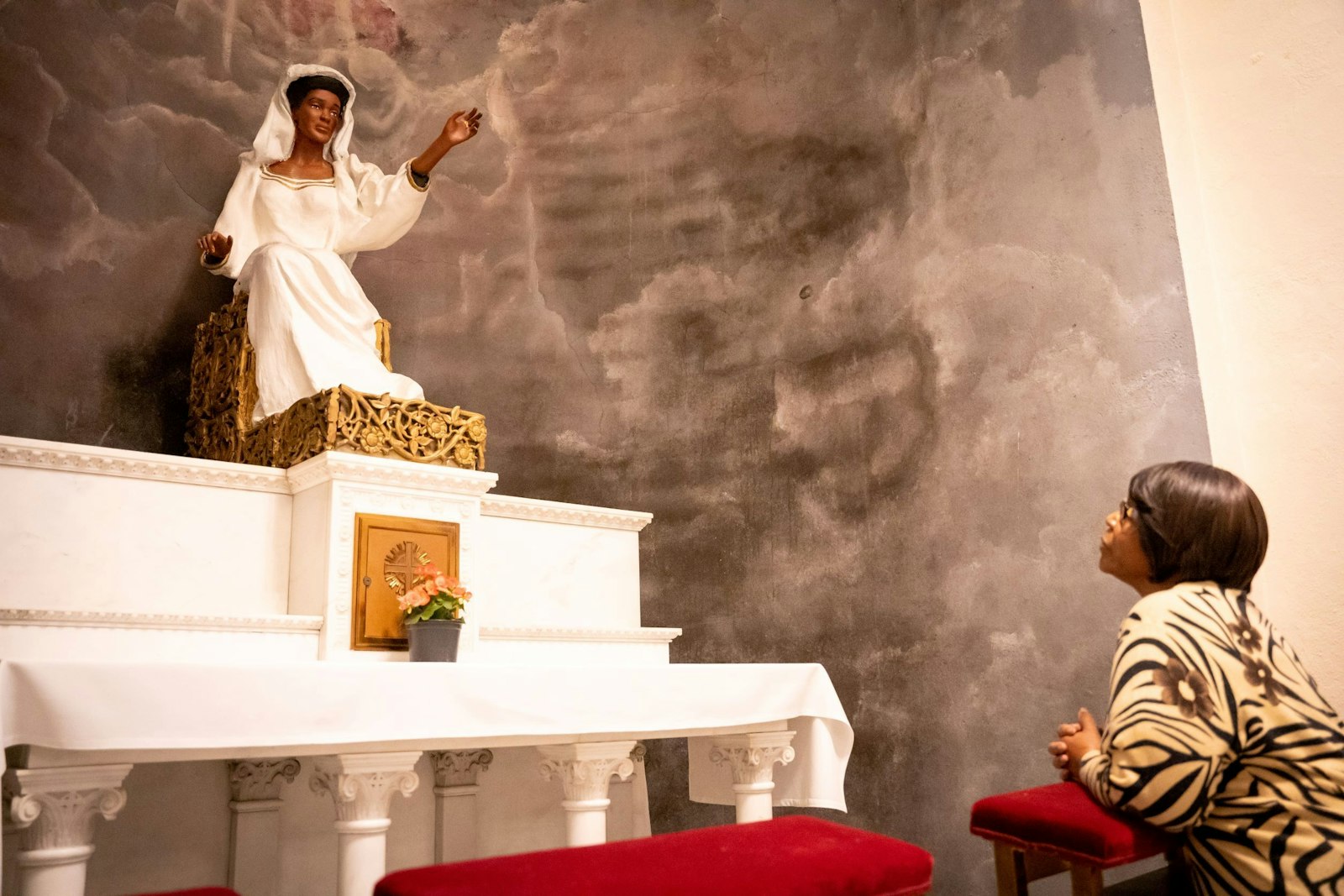 St. Cecilia Parish was founded in 1921, and four years later, a school bearing its name opened. St. Cecilia High School operated until 1967, when it was converted into a neighborhood recreation center for Black and inner-city youth. St. Cecilia's gym quickly took on a life of its own, becoming a haven for basketball players from across the city. "Ceciliaville," as it was called, drew future NBA stars such as Magic Johnson, Jalen Rose and Isiah Thomas, who honed their skills at the northwest side gym. In 2021, a new nonprofit re-opened the famed gym in partnership with the Detroit Pistons, complete with community programs.
Today, the parish has a St. Vincent de Paul organization, a learning center in the former school building, and hosts several community nonprofits, such as Better Men Outreach and Better Women Outreach, DRIVE — the Detroit Regional Interfaith Voice for Equity — and FEMA, Faith Enrichment for Maturing Adults.
St. Charles Lwanga regularly hosts open-tent revivals, and its bus stop ministry offers prayers for transit commuters waiting for the bus at one of the city's busiest intersections.

"They see that light (from the bell tower) and know we are firmly going out and consistently reaching out to people," said parishioner Vivian King, a member of the 100th anniversary committee. "A lot of times throughout the years we've had to discontinue some ministries or acclimate some ministries to meet the changing needs of people. But people in this neighborhood always know St. Cecilia, St. Charles Lwanga is where they can reach out for help."
St. Cecilia was founded with 600 parishioners, and the original church hall is now the gym. The current church building was constructed in 1927. Today, the parish's congregation is predominantly African-American.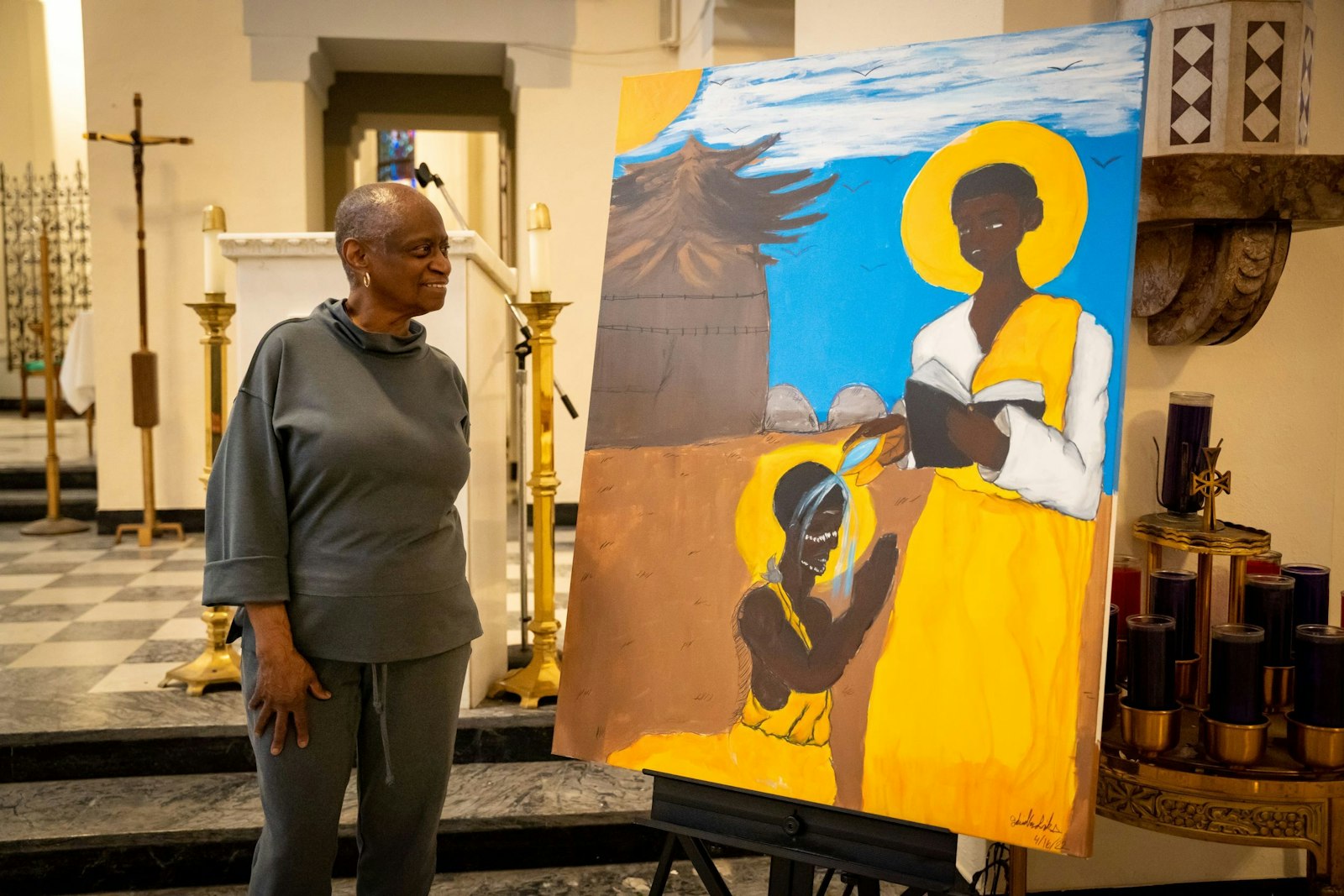 Like many inner-city parishes, St. Cecilia grew by leaps and bounds during the heyday of the automotive industry. At one point, the parish had 40 altar servers and a men's group with more than 100 members.
After World War II, the parish started losing parishioners to the suburbs, followed by construction on Interstate 96, which displaced many parishioners or cut them off from the rest of the neighborhood.

The parish grade school closed in 2010, and in 2013, St. Cecilia Parish merged with St. Leo Parish to form St. Charles Lwanga. The former St. Cecilia Church is now the parish's lone worship site.

But through all the changes and challenges, the parish still looks to cater to the needs of the community.
"I had an opportunity to go through the books they had on the history of this corner of the city and all the ministering the parish has been doing for 100 years," said King. "Through all these different changes with the people and communities who lived here, the different businesses and waves of immigrants and people coming up from the South, the parish has been here through it all. I'm not an alum of St. Cecilia, but I'm in awe of all the ministry its been doing for 100 years."
Fr. Parker reflects on 50 years of priesthood
Providence would have it that the St. Charles Lwanga community is celebrating 100 years at the same time Fr. Parker is celebrating 50 years as a priest.
"It sounds almost impossible [50 years as a priest]," Fr. Parker said. "You live year to year; first it's 25 years, then 40 years. I remember celebrating 40 years as a priest, and that's now 10 years ago. So it's kind of amazing."
Fr. Parker was ordained a Crosier priest on May 27, 1972, by Bishop Leo A. Pursley of Fort Wayne-South Bend, Ind. Born in Brooklyn, N.Y., to parents who grew up in South Carolina during the era of Jim Crow and racial segregation, Fr. Parker grew up at All Saints Parish in Brooklyn, staffed by Pallottine Fathers from the Italian Province.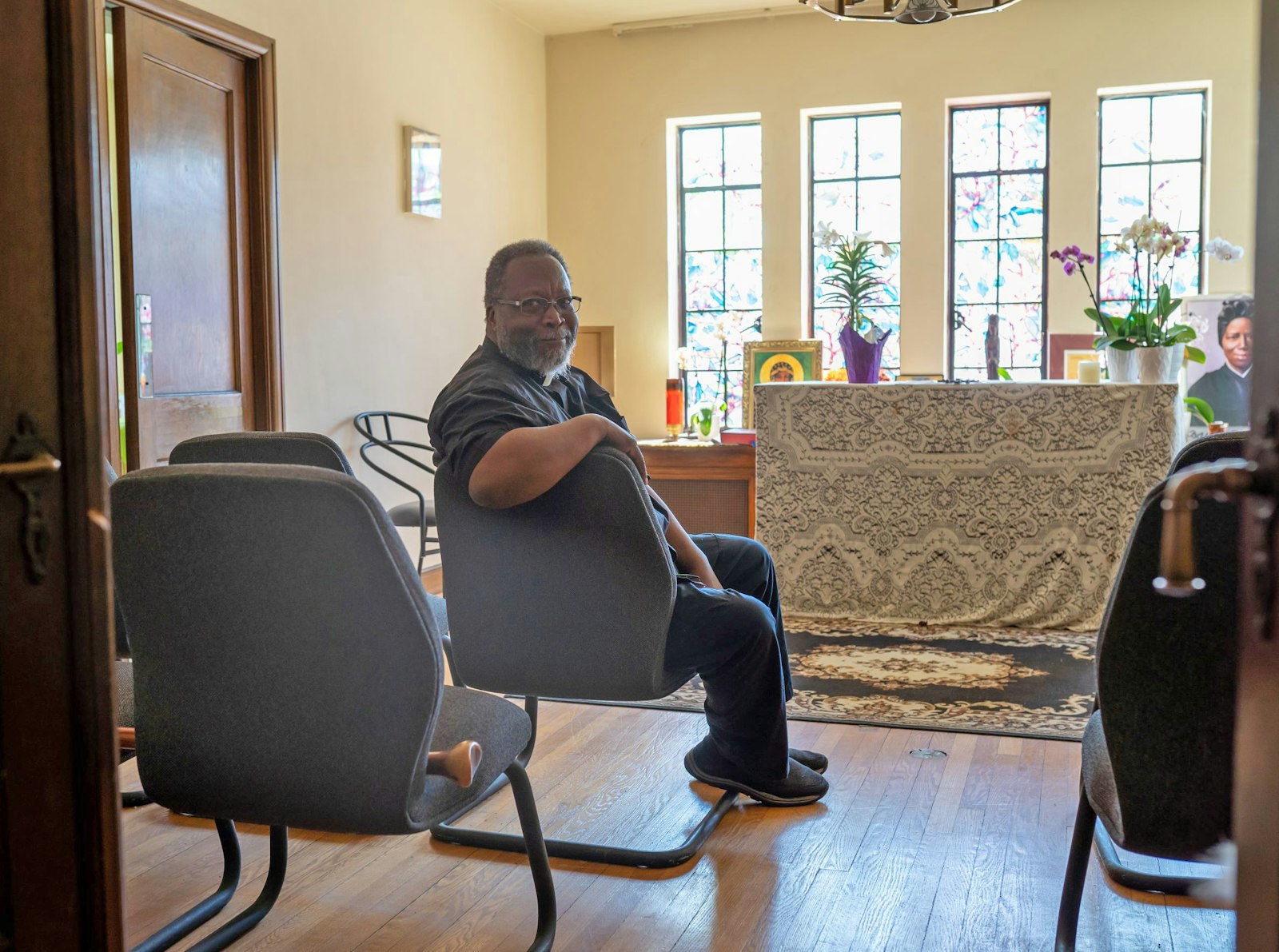 Fr. Parker considered priesthood at a young age, but he didn't want to learn Italian.
The Josephites at the time specialized in ministering to the Black Catholic community, but Fr. Parker wanted to go somewhere he could minister to a diverse congregation.
That's when he saw a photo of a Black Crosier priest.
"I said, 'Well, if he's there, why can't I be there?'" Fr. Parker said. "My parents grew up in South Carolina and experienced segregation and discrimination, so my sister and I grew up with the keen mind that everybody should be treated the same. So, when I got to the Crosiers, I found there were three Hispanic brothers, two African-Americans in the major seminary, and the community was very welcoming."
At 14 years old, Fr. Parker left for the Crosiers' minor seminary in Syracuse, Ind., becoming a novice and moving to the Crosier House of Studies in Fort Wayne.
As a priest, Fr. Parker completed assignments at the Crosiers' prep school in Syracuse, a community in New Rochelle, N.Y, and in prison ministry at the Fishhook Correctional Facility in Fishhook, N.Y., before becoming pastor of All Saints Parish in Harlem, N.Y. In 2001, he arrived at St. Cecilia Parish in Detroit, and the rest in history.
"It has been a very interesting experience to go from where I was at Harlem to coming here in Detroit," Fr. Parker said. "I came from a place where everyone was talking about basketball to a city where everyone was talking about the riots that happened more than 30 years ago, but people talked about it like it was last month."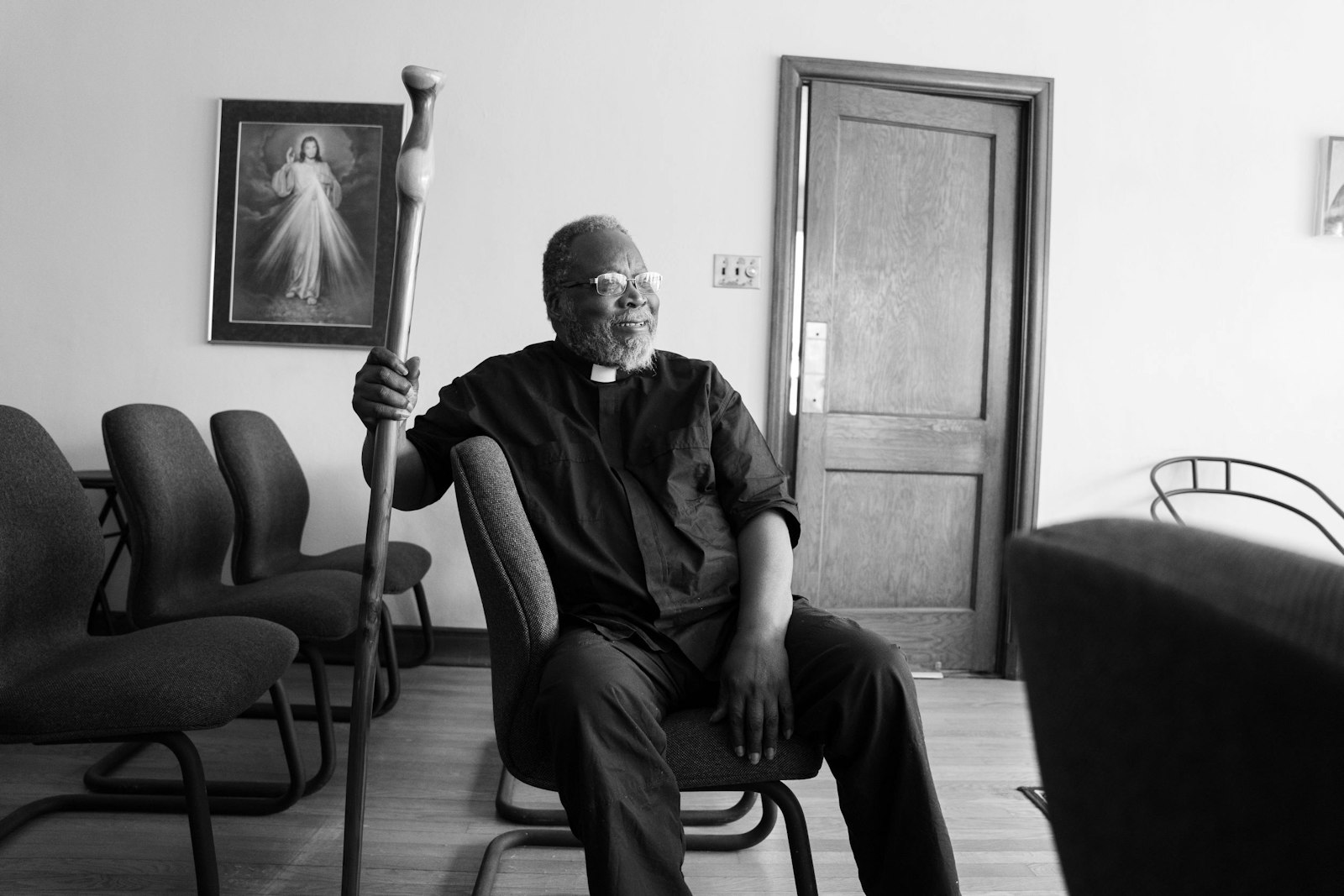 It's important to Fr. Parker that St. Charles Lwanga Parish is a bastion of community service, reaching out with other churches and faith groups to the community, despite the parish's own challenges.

"The parish has a real presence for people in the area," Fr. Parker said. "When I came here in 2001, we had a large school at the time, 300 to 400 kids or so. The parish was 600 people, but now we are at 225 people and no school. A lot has changed with the city of Detroit under conservatorship, and parishioners left the city. And having (Interstate) 96 cut off a lot of our people really hurt us. So there are many challenges here today that weren't around back then."
Fr. Parker is part of a small team of priests, the Fraternity of Blessed Charles de Foucauld, to pray for one another in spiritual brotherhood.

"Prayer, and prayer in connection with other priests, is a big source of strength for me," Fr. Parker said. "We have a group of priests who meet regularly in the diocese every six weeks or so, and it's very important. Often, it's other priests in the same situation, facing difficult times. You have to have your own spirituality, being engaged with the Lord week to week; that's where I draw strength."
While Fr. Parker's own vocation was influenced by an image of a Black priest, he acknowledges there is a challenge today in encouraging vocations among the Black community.
"Today, more and more people are saying they want to see people like themselves as priests," Fr. Parker said. "Many young African-American men simply don't want to be priests. It's a real challenge today."

Difficulties aside, Fr. Parker gives God thanks for the chance to be a priest, to accompany people spiritually and walk with his community for the past 50 years.
"It's a joy knowing so many people and interacting with people, being personable with people on another level," Fr. Parker said. "It enriches you, being a priest and living this life, knowing you can have such an impact on people. It's just a wonderful thing to flow through the Spirit and be there to preach Christ."
St. Charles Lwanga 100+50 Anniversary Celebration
Join St. Charles Lwanga Parish for a three-day celebration of the 100th anniversary of St. Cecilia Church, as well as Fr. Ted Parker's 50th anniversary of his ordination. To commemorate this honor, the church will host a series of events May 13, May 14 and May 15. A formal gala will take place Saturday, May 14, at the Westin Book Cadillac Hotel in Detroit with an exquisite meal, a commemorative display of the church's history, a live and silent auction, dancing, entertainment and raffle tickets open to all.
The next day, Sunday, May 15, Archbishop Allen H. Vigneron will celebrate a special anniversary Mass at St. Charles Lwanga (formerly St. Cecilia Church) at 10 a.m., followed by refreshments and fellowship. St. Charles Lwanga is at 10400 Stoepel, Detroit. Visit the parish website for more information.
Copy Permalink
Parish life
Priesthood