A shepherd to Detroit's African-American and Hispanic communities, auxiliary bishop offers resignation, awaits Rome's response
DETROIT — For Detroit Auxiliary Bishop Donald F. Hanchon, 48 years of ministry as a priest and bishop of the Catholic Church has passed in the blink of an eye.
"It really has," Bishop Hanchon told Detroit Catholic. "I sometimes pinch myself, saying, 'How did that happen?' But I've been blessed with good health, thank God, and that helps me face each new day."
On Oct. 9, Bishop Hanchon, moderator of the Archdiocese of Detroit's Central Region and a leader in ministry to the archdiocese's Hispanic and African-American communities, turned 75 years old, the age at which each of the Catholic Church's approximately 5,600 bishops are required by canon law to offer their resignations to the pope.
Pope Francis has not yet accepted Bishop Hanchon's retirement, and when he will do so is known only to him and to God. It could be days, or it could be years.
But whenever it happens, Bishop Hanchon knows he'll look back on a lifetime of ministry with profound gratitude for God's providence. After all, he almost didn't become a priest.
A calling, not a profession
Growing up in Wayne, a young Donald Hanchon looked up to the priests at St. Mary Parish, who often visited the family's home for dinner. As an altar server, he got a glimpse of their daily routine.
"I grew up with a comfort level around priests, and I admired them a lot," Bishop Hanchon recalled. "I think I was in second grade when I used to think 'Maybe someday I would like to do that.' One of the associate pastors used to celebrate Mass at the nursing home on Saturday mornings, and he would come by, pick me up, and we'd go and do that."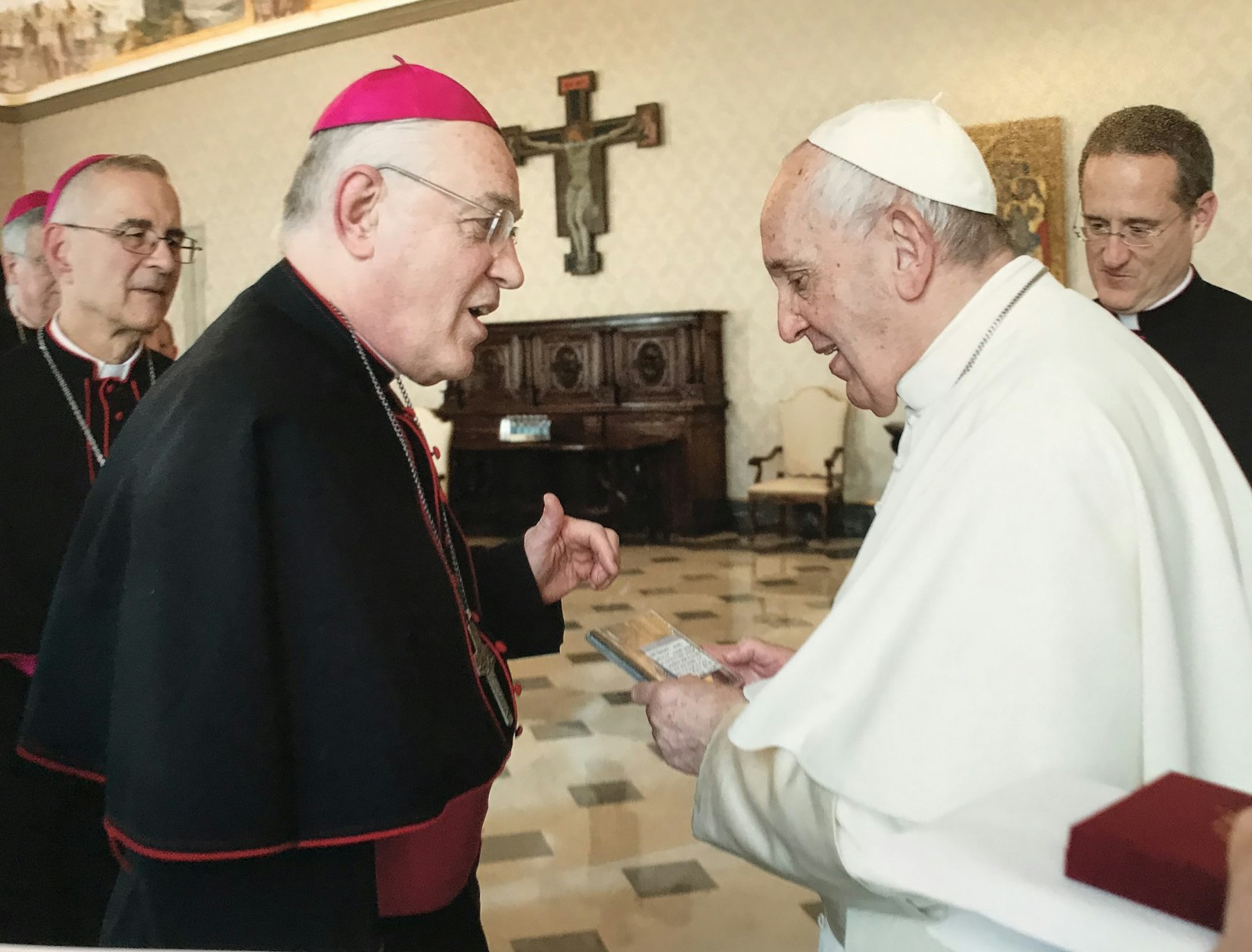 By junior high, he had made up his mind to enter the seminary, and at 13 years old, with the blessing of his parents, began his first semester at the Cardinal Mooney Latin School, the high school on the campus of Detroit's Sacred Heart Seminary.
Unlike many new seminary recruits, the young Donald Hanchon was sure of his plan to become a priest. There wasn't a second thought or a doubt in his mind.

"Years later, I realized how adolescent (my thinking) was. I was always going to do this because I wanted to do this. I really wanted to become a priest," Bishop Hanchon said. "But that's not the way it works. You don't just nominate yourself. It's a matter of a calling."
With 600 students at Sacred Heart, including the seminary, high school and college, there was no shortage of vocations in the 1960s — in fact, just the opposite — and soon, it became apparent that if the priesthood was really what he wanted, he'd have to prove to his formators that he was serious.

"Over time, the pressure to be perfect became pretty intense. I felt the pressure that I had to be really good (to stay in seminary), because guys were continually being asked to leave," Bishop Hanchon said.
Soon, the stress began to take a toll on his health, and the future bishop developed stomach ulcers that required surgery to repair — which, in turn, gave him even more reason to worry.
"When I came back from the hospital, I just knew I was going to get a call from the rector saying, 'Don, you're a nice guy, but this sickness is obviously a sign that this isn't what you're cut out for.' I knew that was going to happen," Bishop Hanchon said.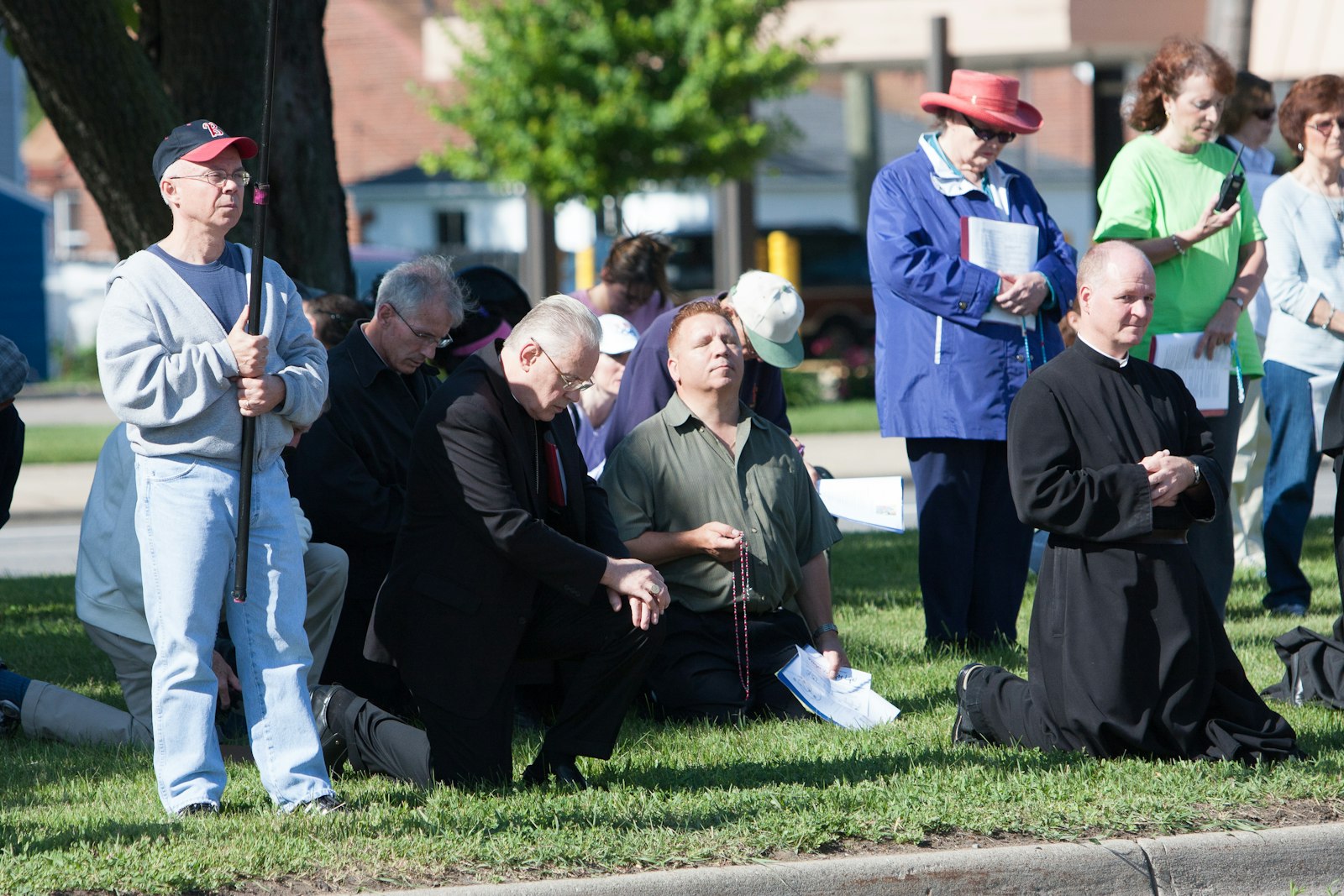 Distraught and stricken with anxiety, that night, he paid a visit to the Blessed Sacrament, sitting in silence and praying for answers.
"I just remember crying, saying, 'There's nothing else I want to do.' What am I supposed to do?" Bishop Hanchon said. "And in the silence, after one of those crying jags, I heard God's voice saying, 'Well, now that I have your attention, in fact, I do call you.'"

Immediately, the famous passage from the book of Jeremiah popped into his head: "From your mother's womb I have called you," Bishop Hanchon remembered. "I stopped crying and I said, 'So I'm not going to get kicked out?'"
The meeting with the rector that he feared would happen didn't, and over time, the pressure to be perfect faded as well. And then the health problems cleared up, too.
"Once that (pressure) was gone, I've never had major health problems since," Bishop Hanchon said. "From that point on, after my sickness and recovery, it was always more genuine. My vocation was based in what I think a vocation really is."
Civil rights and solidarity
Bishop Hanchon's seminary education took place during a time of intense change for both the city of Detroit and the worldwide Church. He entered in September 1961, just months before Pope St. John XXIII convened the Second Vatican Council, and remained at Sacred Heart until after the council ended in 1965. Bishop Hanchon recalled the events as an "exciting time" to be studying for the priesthood.
For Detroiters, the 1960s also brought a powerful period of racial reckoning, as tensions simmered beneath the surface of the post-civil rights struggle. Situated in the heart of the city's northwest side, seminarians at Sacred Heart were given plenty of opportunities to show solidarity with Detroit's African-American and minority communities, hosting prayer vigils, advocating and marching for equal rights as brothers and sisters in the Lord.
As a boy growing up in the mostly white suburbs, Bishop Hanchon remembers feeling particularly drawn toward the city's Black community.
"I was always very intensely aware at Sacred Heart Seminary of the racial aspect of the city of Detroit," Bishop Hanchon said. "The services staff at the seminary, the kitchen and housekeeping staff, were all African-American, and I became friendly with them. I began to think, 'If I'm going to be a priest and serve in this archdiocese, I'd better know Black folks.'"
Amidst the tumult of the 1967 Detroit riots and the 1968 assassination of the Rev. Martin Luther King Jr., the seminary community made several efforts to help bridge the racial divide, and Bishop Hanchon enthusiastically joined in.
"I started to seek out in my apostolic activities things to do," Bishop Hanchon recalled. "We used to drive a group of high school students, Black and white students, to give talks on race, and I was one of the drivers."
In the summertime, he worked as a camp counselor at a day camp for urban youths at Sacred Heart called Camp Hightower — named for the seminary's iconic tower — which fostered lasting bonds between the seminarians and the city's young people, Bishop Hanchon said.
"Each of us college-age counselors had two trainee counselors who were high school-aged African-American young men," Bishop Hanchon said. "One of them today is a parishioner at Christ the King in Detroit. When I saw him for the first time, after about 40 years, I said, 'Excuse me, are you Leon?' And he said, 'Yeah.' And I said, 'Did you ever work in a day camp called Camp Hightower?' And he said, 'Yeah! Are you Mr. Don?' That was a great experience."
After ordination, Bishop Hanchon sought out assignments that would keep him close to the city. His first assignment was as associate pastor of the Cathedral of the Most Blessed Sacrament, serving with Bishop Walter Schoenherr, and later at St. Mark Parish in Warren. In 1981, he was asked to take on administrative responsibilities for St. Bernard of Clairvaux Parish on Detroit's east side, where he had served his diaconal internship as a seminarian.
"It just opened up a whole new world to me," he said.

A new calling in the Hispanic community
As a young priest, Bishop Hanchon gained a reputation as a compassionate listener and pastor of some of Detroit's most culturally diverse communities. As a result of his experience, he was asked to become director of priestly vocations for the archdiocese in 1981 — a role he still considers "ironic," given his own vocational discernment.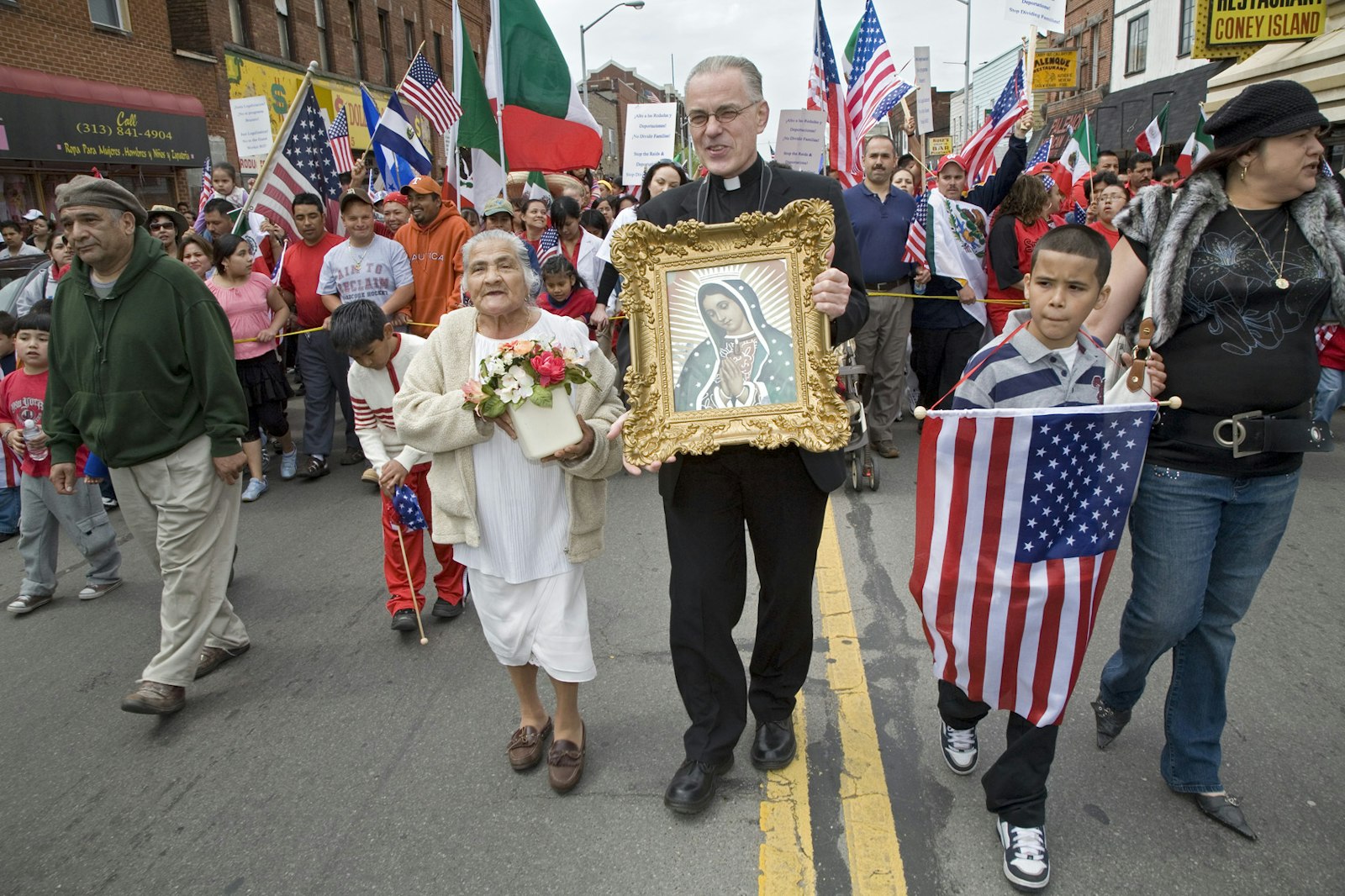 "I didn't know what I was doing, but I learned a lot about priesthood being a calling," Bishop Hanchon said. "I had a great circle of friends, so I would always look for qualities they had in potential candidates. Generosity was one."
In 1987, Detroit's archbishop at the time, Cardinal Edmund C. Szoka, noticed a growing need for priests to serve among Detroit's burgeoning Hispanic population, so it was no surprise when he turned to then-Fr. Hanchon for help.
"Bishop Dale Melczek, one of the auxiliaries at the time, called and said, 'Cardinal Szoka would like you to go study Spanish in Mexico so you can come back to Detroit and work with the Spanish speaking. It would just be for about five years,'" Bishop Hanchon recalled. "Working with African-Americans had made me feel at ease being the minority, and I said, 'I'd be happy to do that.'"
"Five years" quickly turned into 36 — and Bishop Hanchon wouldn't have it any other way.
For seven months, he lived with a family in Mexico, followed by three months in San Antonio, Texas, learning Spanish and immersing himself in another new culture. Upon his return to the archdiocese, Fr. Hanchon was sent to minister at St. Joseph Parish in Monroe, and later, St. Gabriel in southwest Detroit, which both had large Hispanic populations. In 1992, he was made coordinator of Hispanic ministry for the entire archdiocese.

"I've had a wonderful time," Bishop Hanchon said. "It's funny how just being at people's disposal, being a servant, you can learn so much. It's been an adventure."
In 1999, Bishop Hanchon became pastor of Detroit's largest Hispanic parish, Holy Redeemer in southwest Detroit, a community that's still his second home. He marvels at the faith and devotion of the community, which is always bustling with children and young people praying the rosary. The lines for confession are always long.
Bishop Hanchon says the people of Holy Redeemer "conquered my heart with their love for Our Lady on Dec. 12," the feast of Our Lady of Guadalupe.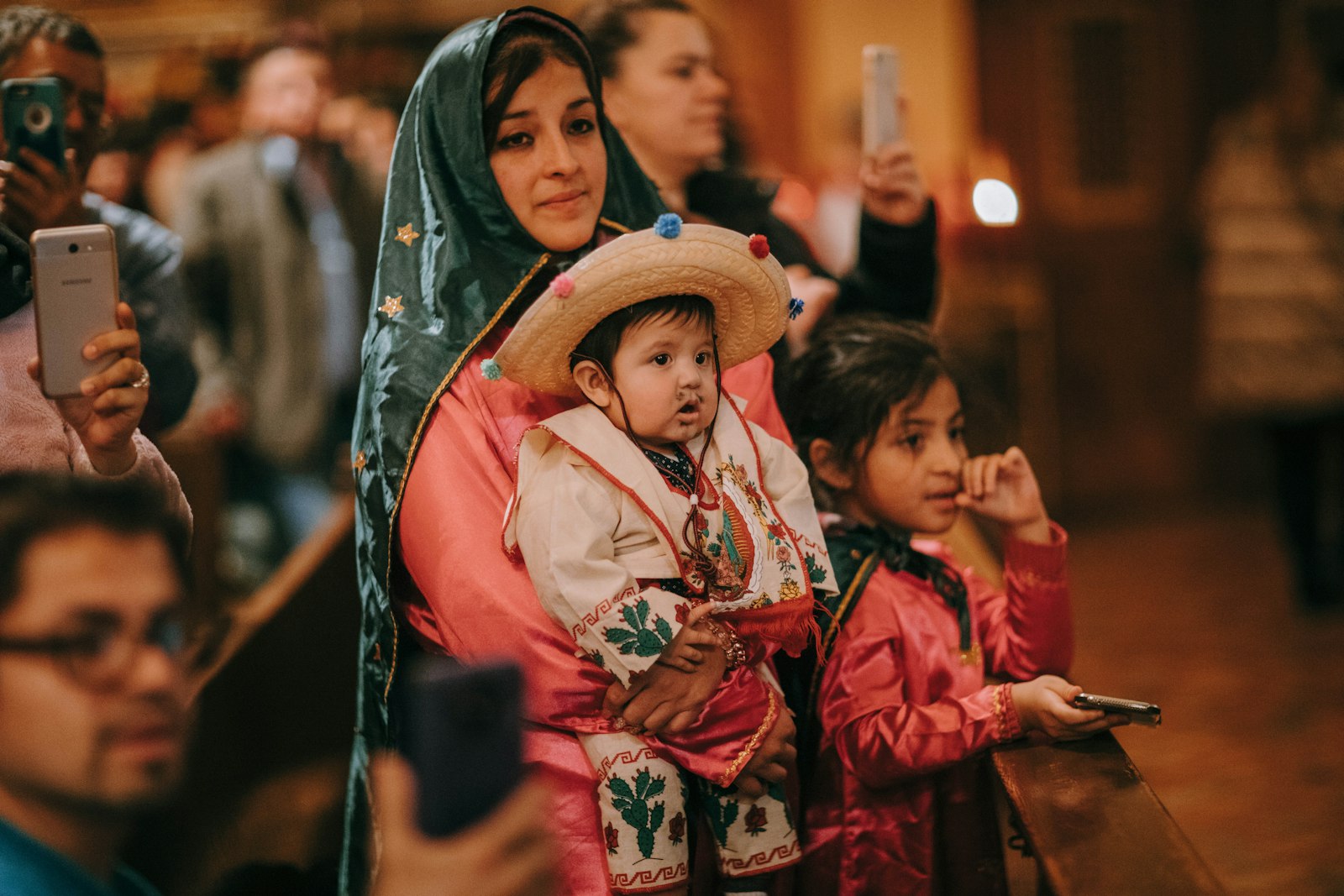 "Beginning at 4:30 a.m., they sing Las Mañanitas, the happy birthday song to Our Lady on her day. The mariachis, the soloists, the banda groups, they all compete to come one after another," Bishop Hanchon said. "They get 10 or 15 minutes to perform for Our Lady, and they sing just like they would for a sweetheart. It makes me cry with joy to see that kind of faith."
Walking in the 'shoes of the fishermen'
As a priest, Bishop Hanchon became used to requests to serve in unexpected ways. But that still didn't prepare him for the phone call he received in March 2011. At first, he thought it was a longtime priest friend playing a practical joke.
"One of my friends, I won't mention his name, used to call people pretending he was the papal nuncio, putting on an Italian-sounding voice," Bishop Hanchon said. "It was about four o'clock in the afternoon. I was up in my room, and the young lady who was at the desk said, 'Monsignor, there's a phone call from you, and it's somebody with a real thick accent.'"
When he quickly discovered the voice on the other end actually was Archbishop Pietro Sambi, his mind raced. Before he could speak another word, the nuncio asked Msgr. Hanchon whether he'd ever been to the Holy Land — specifically, to a place called the "Confession of Peter" along the Sea of Galilee.
"I said, 'I know just the spot you're talking about.' I remembered it warmly because I had been there with a group of Mexicans from the Charismatic Renewal," Bishop Hanchon recalled. "He said, 'Well, the reason that comes to mind is Pope Benedict is asking you to walk in the shoes of the fishermen.'"
Bishop Hanchon said he'd heard rumors that Archbishop Allen H. Vigneron had petitioned Rome for "several" new auxiliary bishops, and laughed it off when parishioners at Holy Redeemer suggested he was a candidate.
"I said, 'No, that's just a rumor. I won't believe it until I get a call from the papal nuncio,'" Bishop Hanchon said, laughing. "Well, then I got a call from the papal nuncio."
On May 5, 2011, Archbishop Vigneron ordained Bishop Hanchon alongside Bishops Michael J. Byrnes and Arturo Cepeda as the 26th, 27th and 28th auxiliary bishops of the Archdiocese of Detroit.

Becoming a bishop didn't change Bishop Hanchon's outlook on ministry. He's always enjoyed being a pastor, and for the past 12 years, "I've been able to be a pastor to a bigger group," he said. "I've really enjoyed it."
Bishop Hanchon, who is pastorally responsible for the 42 parishes and seven schools of the archdiocese's Central Region, insists he has the "best of the four regions, everything inside the city limits of Detroit."
"I love the variety, the multiethnicity," he said. "I'm usually at a different parish every Sunday, and the few times a year when I have nothing scheduled, I'll call up a parish I haven't visited in a while and say, 'Hey, can I come to your place?' My favorite part of being a bishop is being able to travel around to different communities and be warmly received."
Although he doesn't perform as many baptisms and weddings, Bishop Hanchon said, he loves presiding at confirmations. Several years ago, he decided to incorporate music into his homilies, accompanied by his trademark ukulele, which is popular with young people.
"I know other songs, but it seems so appropriate to sing 'This Little Light of Mine,'" Bishop Hanchon said. "Everybody knows the song. So I talk about how the Spirit gives these gifts, so that your light, which you received at baptism, can shine."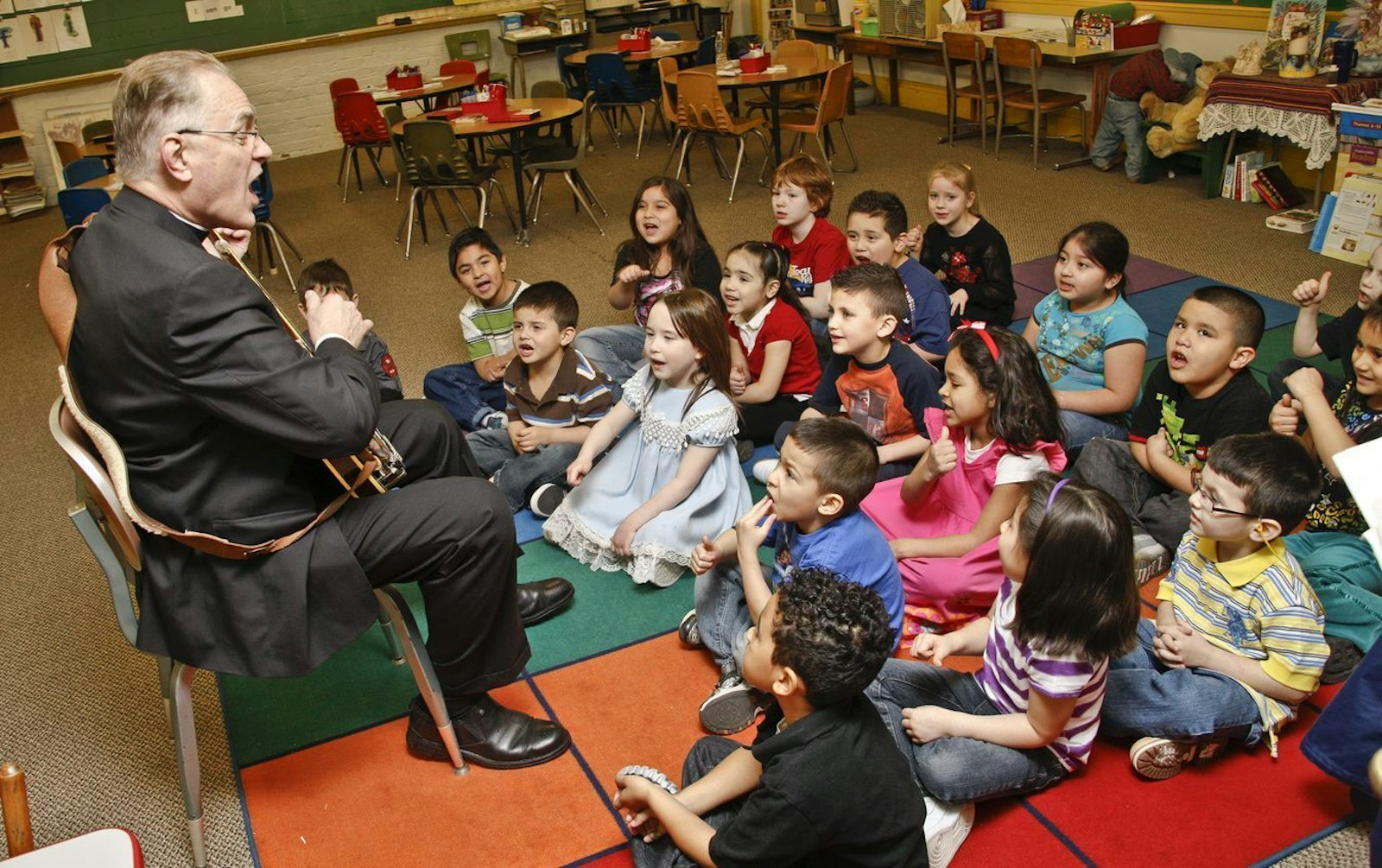 Bishop Hanchon doesn't always play the ukulele, but it's a popular request, he said.
"Sometimes I'll come to a parish for some other function, and people say, 'Are you gonna play the uke?' And I say, 'No, not today,'" he laughed. "I want to keep it unique."
Anchored in priestly fraternity
As a bishop and as a former vocations director, Bishop Hanchon recognizes the challenges facing the priesthood more acutely than most.
With the Archdiocese of Detroit facing a historic priest shortage, today's pastors are increasingly isolated, asked to shoulder more responsibility and given fewer opportunities to keep their own spiritual batteries charged, Bishop Hanchon said.
While the Archdiocese of Detroit's transition to Families of Parishes is designed to encourage greater fraternity among priests, Bishop Hanchon also sees value in small-group gatherings of priests — like the one he's been a part of since 1975.
Since his seminary days, Bishop Hanchon has been involved in the local chapter of the Jesus Caritas Fraternity of Priests, a small faith-sharing group of priests who've met monthly for almost 50 years.
Inspired by the life and witness of St. Charles de Foucauld, a French priest who served among the poor in Algeria in the early 1900s, the fraternity seeks to maintain close bonds of friendship through prayer, reflection and Scripture study, Bishop Hanchon said. And it's worked for the better part of 50 years.
"These six brothers of mine, we've been through everything together," Bishop Hanchon said. "We've been together for 47 years this month, and they're a big part of my life. It's steadied me."
Each gathering begins with an hour of Eucharistic adoration and a discussion about the next week's Gospel, followed by a "review of life," during which priests share with one another their highs and lows, prayer intentions and struggles.
"It's not talking about the rumors or what's happening in the Church or the world, but rather, 'This is my life before the Lord, and I want someone to share it with," Bishop Hanchon said. "It's been one of the biggest anchors of my priesthood."
Thinking back on his 48-year priesthood, Bishop Hanchon hasn't forgotten the lesson God taught him as a young seminarian, sitting alone in the dark before the Blessed Sacrament, struggling with ulcers and an unrealistic burden of perfection: Rely on me.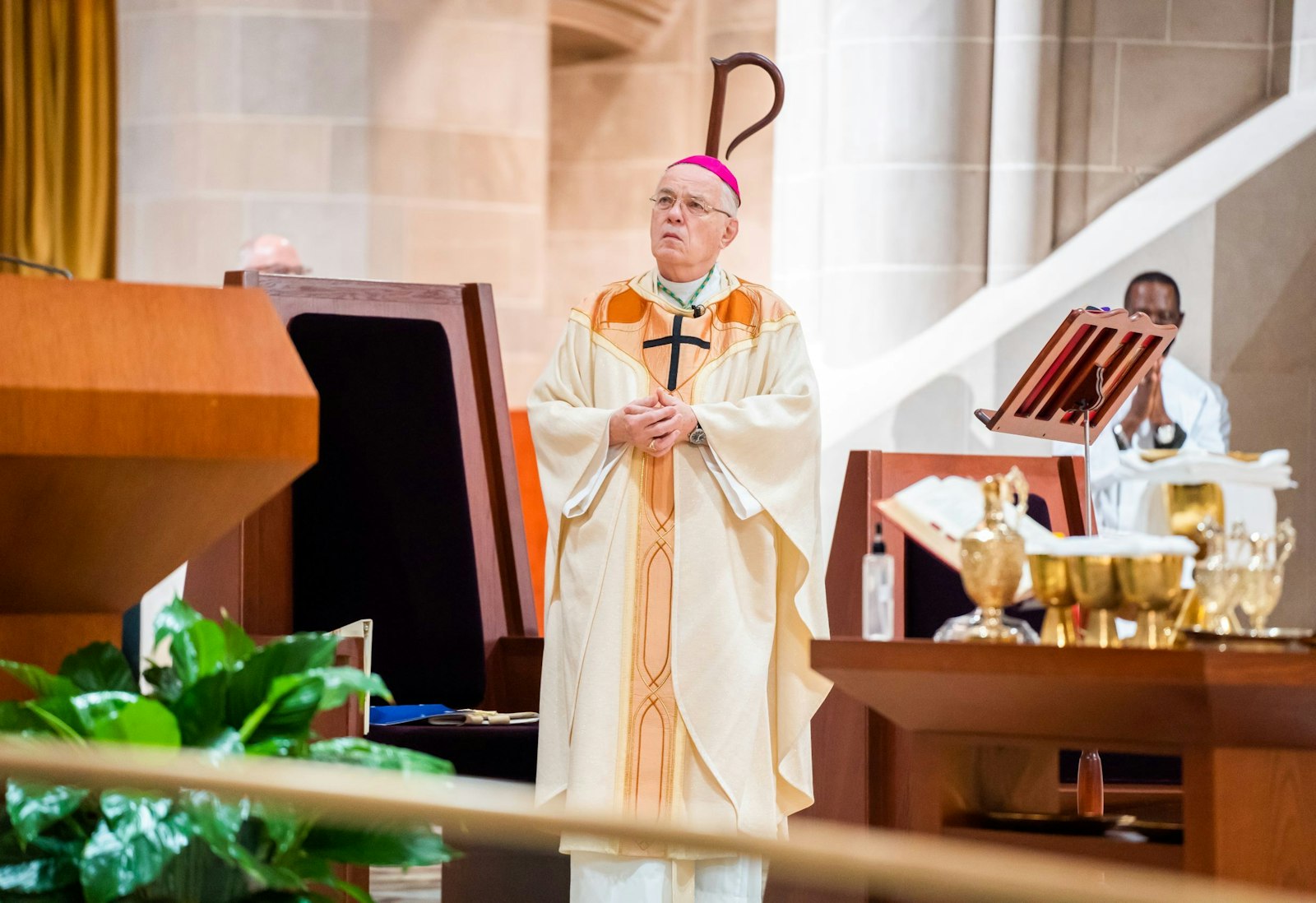 "If I were to choose a word to describe my relationship to Jesus, I would say he's my closest brother," Bishop Hanchon said. "I used to get nervous that if I was spending time before the Blessed Sacrament and I didn't have a Scripture or the rosary or something, that I was being lazy. But I hear the voice of Jesus in my heart saying to me now, 'That's not important. It's important to me that you took this time, so just spend the time with me.'"
It's in those quiet, still moments that the voice of Jesus speaks immeasurably louder, Bishop Hanchon insists.
"I laugh sometimes at the things I discover about spirituality, but it's really quite simple," he said. "'I love you, and I want you to communicate to other people that I love them, too. I want them to have the ease of knowing that whatever sins they committed can be forgiven.'
"There's always a chance for a new beginning," he said, "and that's just great good news."
Copy Permalink
Bishops