Alpena native's return to serve the people of Michigan was a long time coming, according to a late Detroit cardinal
DETROIT — Archbishop Paul F. Russell was inaugurated as the Archdiocese of Detroit's newest auxiliary bishop during a welcoming Mass at the Cathedral of the Most Blessed Sacrament on July 7.
Archbishop Russell has served in the diplomatic corps for the Catholic Church all around the world.
But if a late former Detroit ordinary had had his way, Archbishop Russell's ministry in Michigan would have begun a lot sooner.
Bishop (later Cardinal) Edmund C. Szoka of Gaylord confirmed Russell, a native of Massachusetts who grew up in Alpena in northern Michigan with his mother, in the 1970s.
When Bishop Szoka heard Russell was discerning the priesthood — but wanted to study for the Archdiocese of Boston, where his father lived — Bishop Szoka extolled him, "You belong in Michigan."
As a seminarian at St. John Seminary College in Boston, Russell was tasked with welcoming bishops from around the country to the Cathedral of the Holy Cross in Boston. Once, in that role, he came across Cardinal Szoka, then-archbishop of Detroit, who again extolled him, "You belong in Michigan."
The pestering didn't end there.
"Six years later, as a priest now, I concelebrated the Detroit priesthood (ordinations) on the vigil of the Solemnity of the Holy Trinity, June 9, 1990, here at this cathedral," Archbishop Russell recalled. "Encountering Cardinal Szoka, he repeated, 'I tell you; you should be in Michigan.'
"Archbishop Vigneron, if you ever decided to open Cardinal Szoka's cause for canonization, this might be his first miracle," Archbishop Russell joked.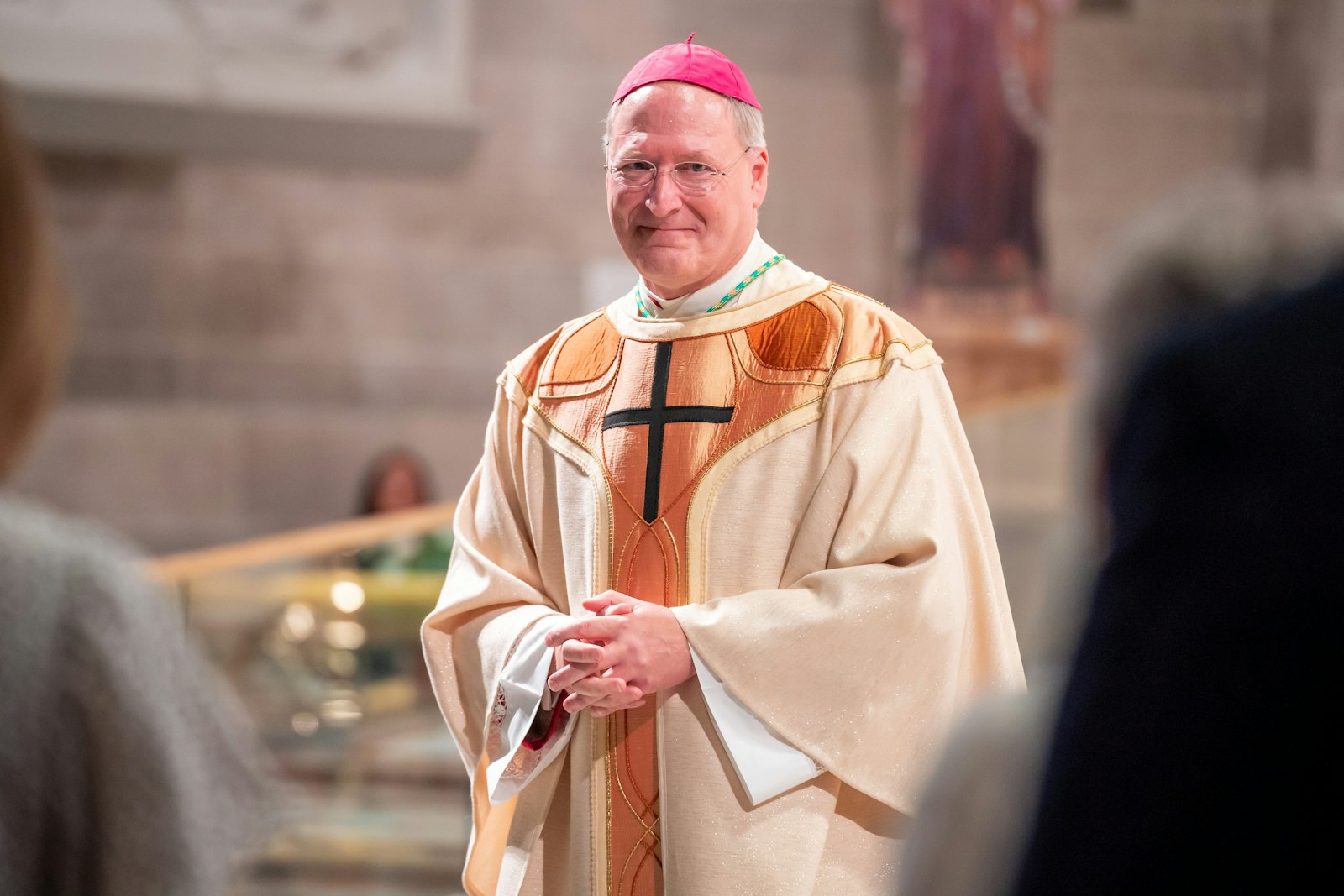 Archbishop Allen H. Vigneron of Detroit formally welcomed Archbishop Russell as the 31st auxiliary bishop in the history of the Archdiocese of Detroit during the Mass.
"On the 23rd of May, the Holy Father, Pope Francis, caused to be published his decision to make you, Archbishop Russell, to serve in the Archdiocese of Detroit," Archbishop Vigneron said. "On behalf of the whole local church, I express my gratitude for this fraternal act in care for us. Likewise, in the name of all the people of the archdiocese, I welcome you, most heartily. We're glad you are here to share our life, to share in our mission, confident you will experience here great joy and much love for those you serve."
Archbishop Vigneron then invited Archbishop Christophe Pierre, apostolic nuncio to the United States, to read the letter from Pope Francis making Archbishop Russell the newest auxiliary bishop of Detroit; Archbishop Russell retains the title "archbishop," a personal title he received during his previous assignment as apostolic nuncio to Turkey and Turkmenistan.
"Dear archbishop, although you were born in Massachusetts, you spent a great majority of your childhood in northern Michigan, where you grew up and the Lord called you to the priestly vocation that began in 1987 in Boston," Archbishop Pierre said. "Your service to the Church has been widespread, especially the mission in the Vatican diplomatic service in various parts of the world.
"You have this perspective of a universal Church, the joy of having been a missionary disciple in many nations," Archbishop Pierre continued. "As we know, the Archdiocese of Detroit is one of the most ethnically diverse archdioceses in the United States, celebrating the liturgy in dozens of languages. Truly, you should be right at home in the Archdiocese of Detroit, where Archbishop Vigneron welcomes you back home with open arms."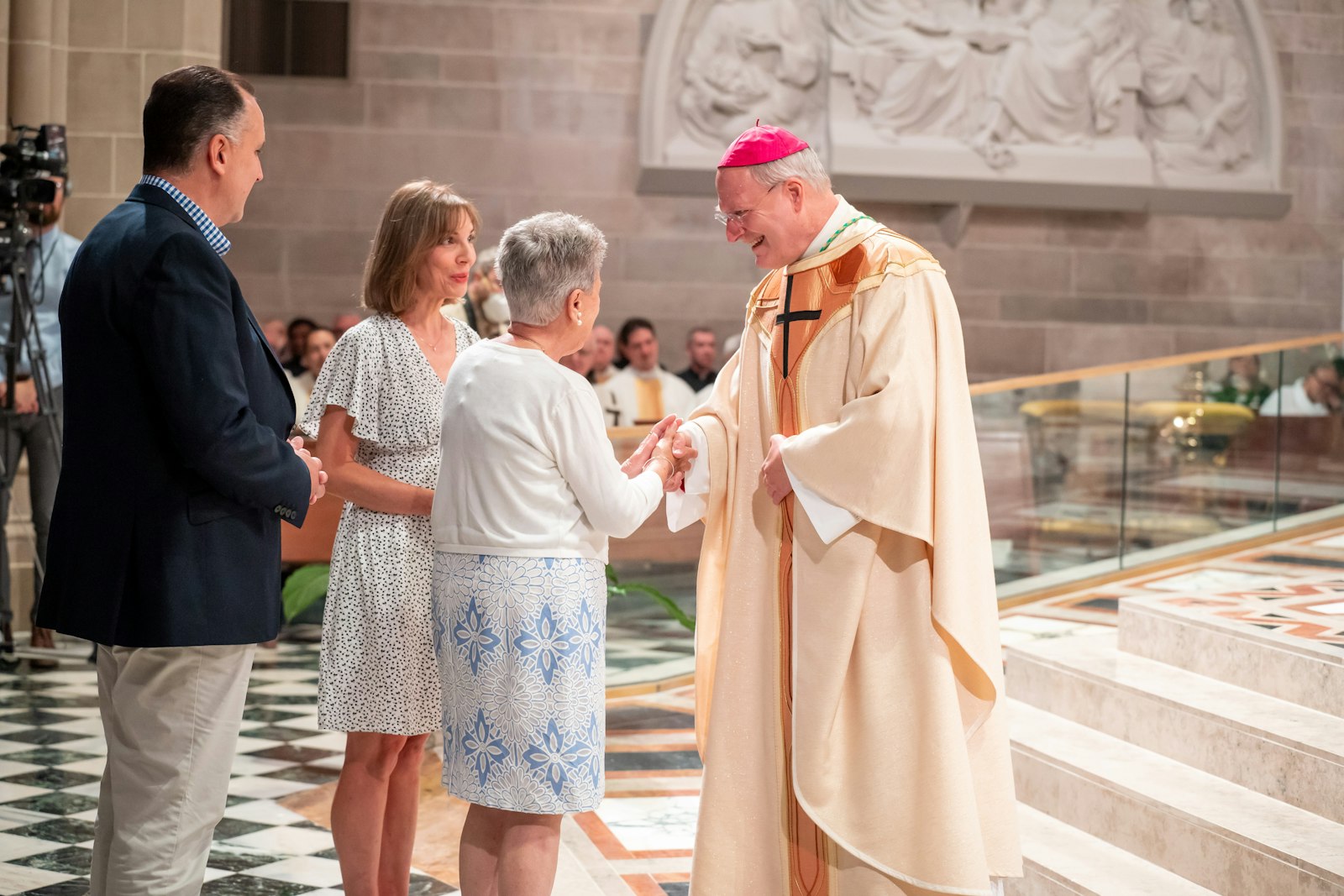 Archbishop Russell thanked Pope Francis, Archbishop Pierre and Archbishop Vigneron during his homily, saying how glad he was to be back in Michigan.
"Pope Francis has such a tender pastoral heart, and I'm so happy with his decision to send me home," Archbishop Russell said in his homily. "I look forward to working with Archbishop Vigneron under his authority in union of mind and heart as the pope has instructed me in the letter Archbishop Pierre read. I look forward to working with Archbishop Vigneron to assist him in whatever tasks he will give me, and to minister together with my brothers, Bishop (Donald F.) Hanchon, Bishop (Robert J.) Fisher, Bishop (Gerard W.) Battersby, Bishop (Arturo) Cepeda, the priests and deacons, religious brothers and sisters, consecrated persons and lay faithful of this archdiocese.
"I look forward to bearing your joys and your sorrows, your hopes and your challenges; I look forward to learning from you and getting to know you," Archbishop Russell said.
Reflecting on the day's reading from the Gospel of St. John, Archbishop Russell stressed the unity that is involved in worshiping the Triune God, how Jesus knows the Father, and the how Christ loved his disciples, so through loving and following Christ, they in turn love God.
"We hear Christ say, 'The Father is in me, and I in you,'" Archbishop Russell said. "This is Jesus' prayer. The inner life of God is characterized by a profound unity which goes beyond our human experience. God is one in three and three in one, as revealed in Jesus. To understand one, you must understand three, because one, and one, and one make three, but we must understand (the word) 'and.' When we make the sign of the cross in the name of the Father, the Son and the Holy Spirit, we focus more easily on the words 'Father,' 'Son' and 'Spirit,' but the word 'and' has equal weight."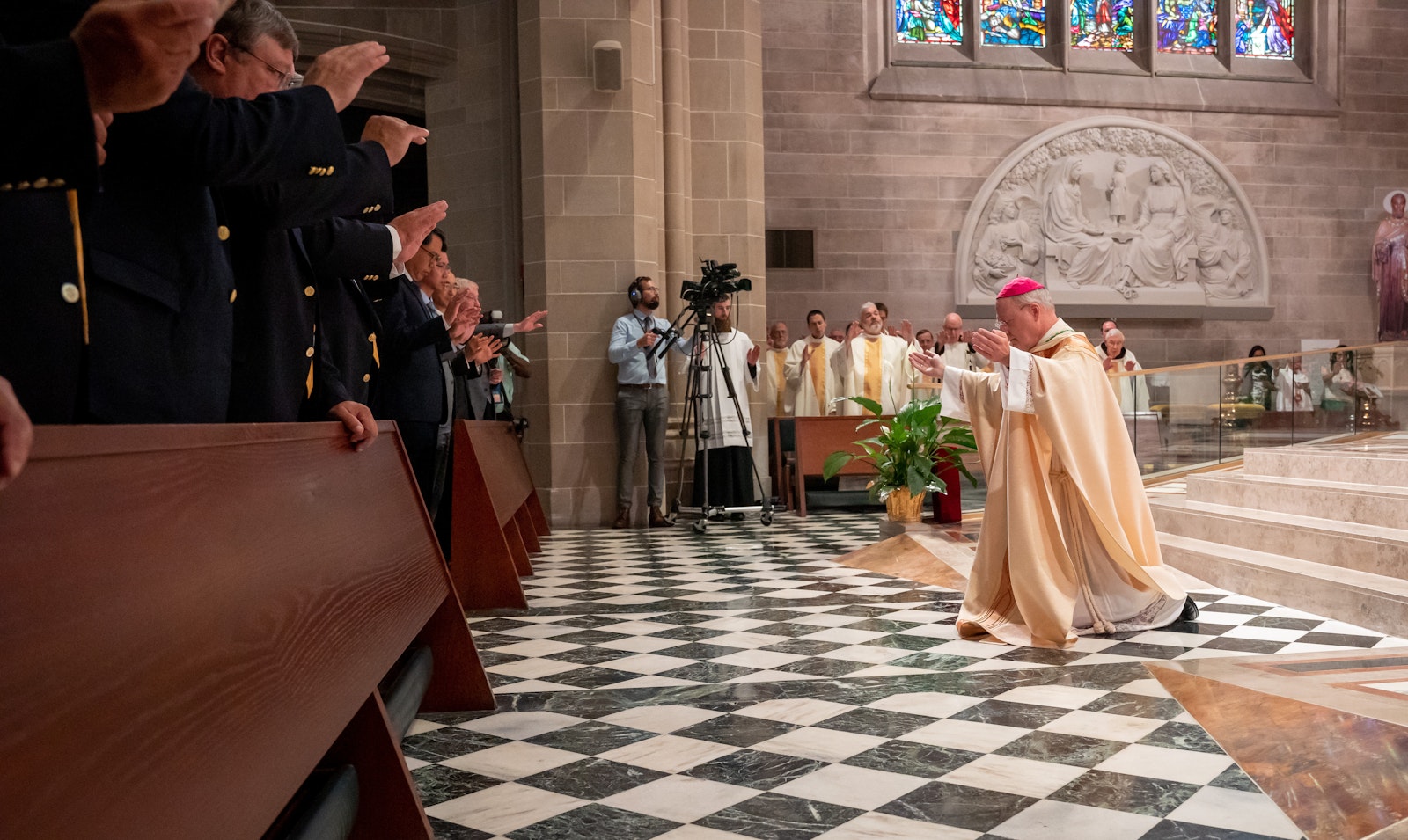 Before his homily, Archbishop Russell was presented with the mandate that Archbishop Pierre read to the congregation. Archbishop Russell showed his mandate from Pope Francis to his brother bishops and priests and processed around the cathedral to show the faithful.

The procession of the mandate is an ancient tradition in the Church, uniting a bishop to the people under his care.
Archbishop Russell stressed that unity in his homily, asking the faithful to pray over him as he begins his episcopal ministry in Detroit.
"The prayer of Jesus teaches us that God is profound unity," Archbishop Russell said. "Jesus is equally aware of the Father's love and lives that love. He takes his being from that love of the Father: 'You loved me before the foundation of the world.' Because we are united with Jesus, we are caught up into God's unity. Because we are united with Jesus, we are caught up into God's love."
Archbishop Russell will serve with Bishop Battersby in the South Region of the archdiocese, which includes parishes in southern Wayne and Monroe counties.
In October, another Detroit auxiliary bishop, Bishop Hanchon, will turn 75 years old, the age at which bishops are required by canon law to submit their resignations to the pope. If, as expected, Pope Francis accepts Bishop Hanchon's retirement, Bishop Battersby would take over Bishop Hanchon's pastoral responsibilities in the archdiocese's Central Region, which includes the city of Detroit, Hamtramck and Highland Park.
Copy Permalink
Bishops
Archdiocese of Detroit